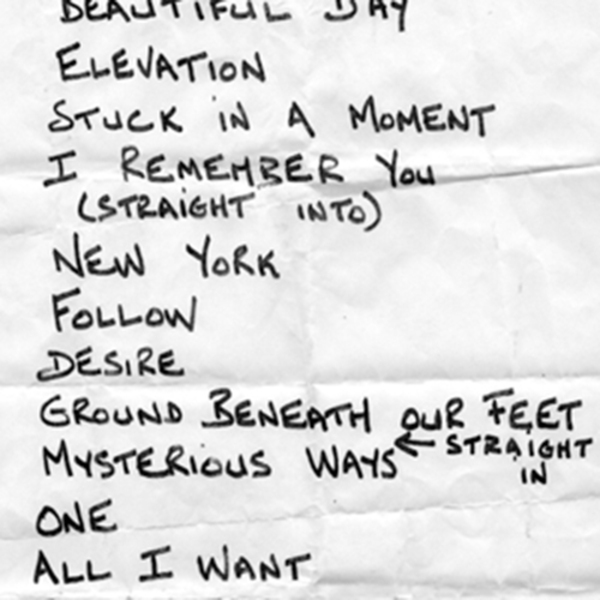 More news on Tuesday night's New York set. That set list in full - handwritten no less - live shots of the band onstage and additional reportage.

Shortly we hope to be bringing you a personal review by our U2.COM competition winner of whether the earth moved for them - or at least the ground beneath their feet.

Meanwhile, NME.COM have posted a more in-depth review of the show.

U2: New York Irving Plaza

Rock'n'roll ain't dead. Tonight, in front of a mere 1000 people, the most famous Irish export outside of Guinness get back to their roots with some old-fashioned bare-bones rock'n'roll. The Dublin-boys-turned-stadium-rockers banish the days of oversized lemons and irony with an hour's worth of honest, no-gimmick songs.

The set's heavy on tracks from the new album 'All That You Can't Leave Behind', opening with the bold 'Beautiful Day' and then 'Elevation', with a sample of The Monkees' 'Steppin' Stone' tacked on the end. Before going into another new track, 'Stuck In a Moment You Can't Get Out Of', Bono says, "This is a song about friendship. It's about a good friend of mine - Michael Hutchence." During the song he teeters above the front row on monitors, almost as if in tribute to the Aussie rocker who once scaled rafters in his performances.

Continuing in the vein of tributes, Bono praises the city of the evening. "New York City - that's where we got started on the poetry and punk rock," he remembers aloud. "But more than any other band when I was 15 or 16 - actually I was 14 - was the Ramones. So I'm gonna sing this for Joey Ramone." The band then go into back-to-back tracks paying tribute to the city of lights, 'I Remember You' and their new track 'New York'.

After taking the audience on a serious nostalgia trip with a tight rendition of 'I Will Follow', complete with the Edge's pitch-perfect guitars, Bono gets historical: "We've been a band longer than we haven't," he says. "People think it's like being in a gang, but it's more like a priesthood. You're in a band 'til the day you die." He then mentions the presence of Zach de la Rocha and Billy Corgan in the crowd and his sadness about the demise of both of their bands, before introducing his own three famed cohorts - "the musical conscience" bassist Adam Clayton, "a man so handsome he'll never be let to sing", drummer Larry Mullens, Jr., and the "card-carrying genius" guitarist the Edge.

He and the band then deliver an old guilty pleasure - after picking up his "red guitar on fire" - with an incredibly energetic version of 'Desire'. ......