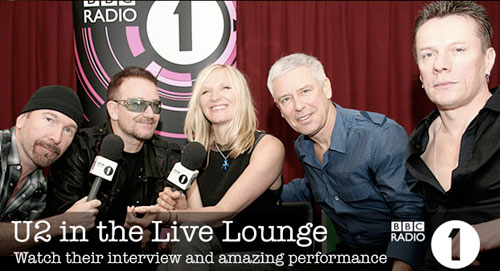 'And now performing Breathe, please welcome U2...' If you're in the UK, Friday is U2 all day.
The band were at BBC TV Centre in London today, recording two songs for the Jonathan Ross show which airs on BBC 1 tomorrow night. If 'Boots' went down well (a lot of fans in the 200-strong studio audience ) 'Breathe' took the roof off , and only the second time they've played it live,
Other guests on the show included the actors Clive Owen and Emily Blunt and the naturalist David Attenborough. But the showbiz threesome were soundly beaten in a University Challenge contest with 'The School of Rock' (guess who that was) for whom Edge got all three quiz questions immediately, not least because he was one of the answers. House band 'Four Poofs and a Piano' reprised several of the band's hits in their uniquely hi-camp acapella style. Earlier , there was a special performance of 'Boots' for Red Nose Day http://www.rednoseday.com, which is coming up next month. Friday, by the way, also sees a Radio 1 'Live Lounge' with U2 broadcasting from the BBC Theatre at Broadcasting House on the Jo Whiley show. Tune in between 10am and 12.45pm or
listen to it on the web
Then it's off to Simon Mayo's Radio 5 Live show before finishing the afternoon with Chris Evans on Radio 2.
(And after you've watched Jonathan Ross (BBC1 10.30pm) switch over to BBC 2 for an extended edition of The Culture Show at 11.30pm - all about you know who....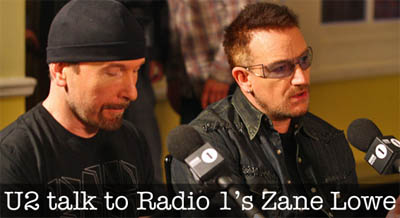 Listen - and watch - again
Several of this week's BBC interviews in the UK are now being carried online also.
Lauren Laverne's visit to Dublin to interview the band for The Culture Show is now live as well as Bono and Edge talking to Zane Lowe about The Killers and Kings of Leon.
You'll find them - as well as information on tuning in to Friday's appearance -
here