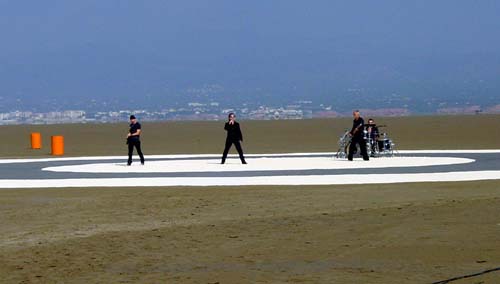 Helicopters, quad-bikes, cranes in Spain... must be the video-shoot for Vertigo.

Directors Alex Courtes and Martin Fougerol, pulled together a sixty-person crew, to work with U2 in a remote river basin on the east coast of Spain on Tuesday and Wednesday of this week.

Burning sun, high winds and even heavy rain only added to the stark, wilderness vibes of a remote spit of land in the Delta de L'Ebre, on the Spanish coast.

Centre stage was a gigantic circular target - laid out painstakingly in huge concentric circles of black and white granite over the sand - and in the firing zone as usual were U2, their performance of the upcoming single release Vertigo blasting across the landscape.

If you didn't know you were in Spain, you could easily think you were in the middle of Nevada desert - somewhere, in fact, where they used to test atomic bombs.

'We've had rain, high winds and been sandblasted to bits,' reflected Edge, in a break in the shoot. 'How come Duran Duran got to go to the Seychelles and hang out with beautiful girls on yachts ?'

The band met Alex and Martin in France during the summer, having come across their earlier work, particularly the video for The White Stripes' Seven Nation Army. They loved their proposed treatment for Vertigo, which Edge describes as a 'great rock'n roll song which captures the sense of unease in the world that many people feel at the moment.'

And playing the song some forty times in two days, whatever the conditions, is no problem for a band who are as hungry as ever to create great music.

'Video's always take time,' says Adam. 'But I think of it as a great chance to rehearse the single'.

Keep checking back on U2.Com for the full story on the making of the Vertigo video with more exclusive location shots.