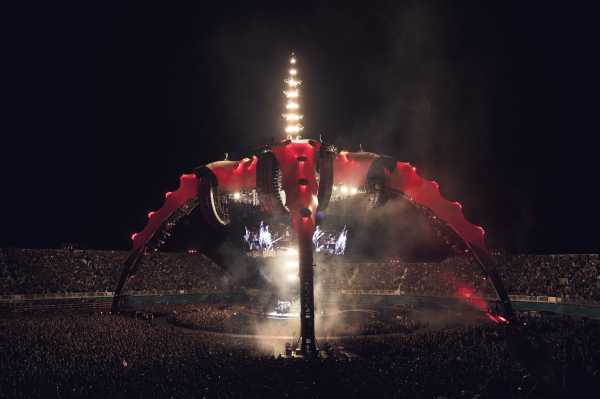 Band members aside, few know U2360° as well as Show Director Willie Williams.
But forced to choose only 22 songs in selecting the tracks for
'U22'.
.. what would he choose?
Here's Willie's thinking and, below, his tracklisting. Jump into the comments with what you think of what he's included... and what he's left out.
'This was a difficult choice mostly because, through complete force of habit, I kept thinking of it as a set list. It became considerably easier once I'd abandoned the notion of this list ever being performed live so I could start with all three openings of the show - first the 2010 opening ('Stingray'), moving on to the 2011 opening ('Real Thing') then popping back for the 2009 opening (Breathe).

There was temptation to abandon all the hits in favour of the rarities but given that this is in some way supposed to represent the tour there were a few reinvented classics which it would have been rude to leave out - the 'Arab Spring' remake of Sunday Bloody Sunday, the intense 360 immersive version of 'Still Haven't Found' and, most of all, Beautiful Day as a 'duet', with Commander Mark Kelly performing on the International Space Station.

The pillars of the 360 show have to be there of course: City of Blinding Lights, 'I'll Go Crazy', Moment of Surrender, 'Boots'. It is also a great opportunity to immortalise some of the songs that only appeared briefly on the 360 tour, particularly Your Blue Room and the spontaneous medley of All I Want is You / Love Rescue Me. It seems only right to give space to the songs that we may not hear performed again for some time (Scarlet, Unforgettable Fire) and then there are my personal favourites to cram in (Ultraviolet, Zooropa, No Line).


Given enough space I would have probably included all 46 songs (plus the unreleased ones and a few more that never made it beyond soundcheck) as they all played their part in building the character of the tour. However, the rules said 22 only so, for better or worse, this is how I'll remember U2360° - a remarkable collection of U2 songs that references every one of their albums... if you count the 16 bars of 'Discotheque' mashed into 'I'll Go Crazy'.
The Return of the Stingray Guitar
Even Better Than the Real Thing
Breathe
Get on Your Boots
I Still Haven't Found
One Tree Hill
No Line on the Horizon
The Unforgettable Fire
All I Want is You / Love Rescue Me
Beautiful Day (with Mark Kelly)
Your Blue Room
Unknown Caller
Zooropa
City of Blinding Lights
I'll Go Crazy
Sunday Bloody Sunday
Scarlet
Bad
Hold Me Thrill Me
Ultraviolet
Moment of Surrender
Out of Control

The standout track? Has to be Ultraviolet. Listen carefully enough and you can almost hear the mirror ball...
'
(If you already subscribe to U2.com don't forget to cast your vote and if you don't, here's
everything you need to know about 'U22'.
)