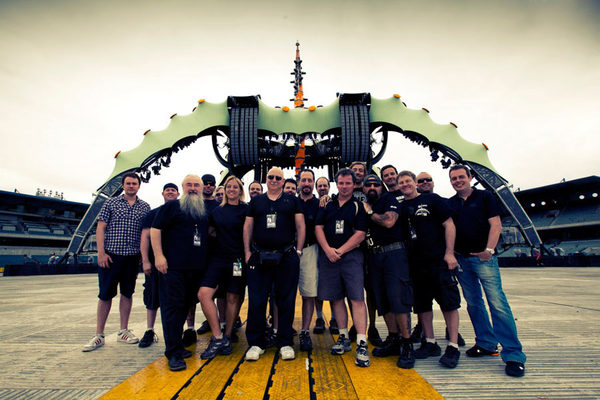 The U2360° Tour has won the award for Best '2010 Tour Sound Production' at the annual TEC (Technical Excellence and Creativity) Awards in Los Angeles.
U2's Joe O'Herlihy won in the category of Front of House Sound Engineer while 360 crew members Alastair McMillan, David Skaff, Richard Rainey and Niall Slevin picked up the award for Monitor Engineers. U2360° Tour partner Clair won Best 'Sound Company'.
The awards are known as 'the Grammy's' within the rock touring production industry and the U2 sound crew were up against talented competition from touring personell working with Sting, Bruce Springsteen, Metallica and James Taylor and Carole King. ML Procise from Clair, who have worked with Joe and U2 for over thirty years, accepted the award on behalf of the 360 Tour.
'It's a fantastic accolade at beginning of the year,' said Joe, when we caught up with him in Dublin. 'These are the awards made by your peers in the industry and they recognise outstanding creative achievement so it's pretty special for us to win.'
Joe and the U2 crew were also winners in 2002 for the Elevation Tour and in 2005 for Vertigo and he said this win was a special tribute to the 16-strong audio team led by Jo Ravitch, Senior System Engineer.
'This makes it a hat-trick of wins for us but not only is the competition getting tougher every year but this time, with this 360 tour, we're doing something quite revolutionary which required us to completely rethink how we deliver great sound in the round in stadiums. We're delighted!'
And after a few weeks off, the team are already working on preparations for next months dates in South Africa and those in South America that follow.
'South Africa will be amazing particularly as in Johannesburg we'll be opening in the new stadium where the soccer World Cup Final took place last year. And we always love heading over to South America, the audiences are extraordinary, that latin passion is something we all look forward to. I'll never forget those nights shooting the U23D movie, it'll be great to be back.'
All TEC Winners listed
here
.