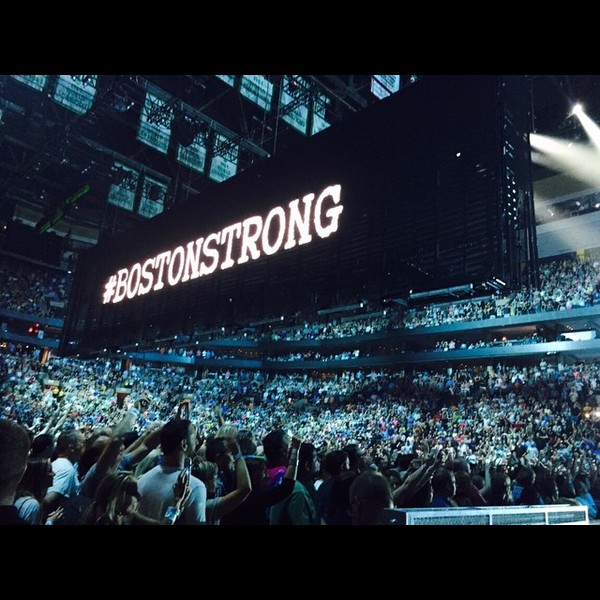 'It's no secret that the stars are falling from the sky
It's no secret that our world is in darkness tonight...'
'WATCH MORE TV.' Final night in Boston and instead of an animated Johnny Cash performing The Wanderer when the band slip off stage between 'End Of The World' and 'Invisible', the screen was alive with that electrifying mash-up of aphorisms, truisms and cliches that could only mean the return of The Fly... set to a searing, thumping, Gavin Friday mix of the 1991 classic. 'CALL YOUR MOTHER'
'Thanks for the loan of your city for the last 10 days,' said Bono introducing Iris, 'I guess we have to hand it back to you at some point. It kind of feels like our city too. I hope we didn't make too much of a mess.'
'I'm just trying to find a decent melody
A song that I can sing in my own company...'
Stuck In A Moment was back, only the fourth time out so far, followed by this.
'Your eyes were like landing lights
They used to be the clearest blue
Now you don't see so well
The future's gonna land on you...'
Volcano, back after missing eight shows and illustrating a set list that's getting more and more unpredictable - not least the songs with the band gathered on the 'e' stage. 'U2 really knows how to turn an arena or a stadium or whatever into a magical club,' as @KyaMHill put it on twitter.
'Where you from?' Bono asked Beth, tonights Meerkat-er. 'I think everyone's from Boston tonight.'
Good answer Beth. 'Four nights should have been fourteen...' as Bono put it later on.
That's a few of our highlights, what were yours? Were you at the show? What were your unforgettable moments? Post your own review and add your photos here.