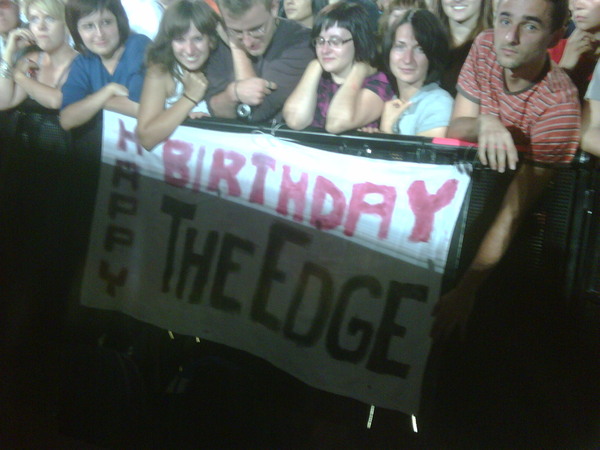 A spine-tingling night right from the start with a huge and passionate audience. If they weren't in red and white - great planning by the fans here again - they were in U2 shirts or in Music Rising shirts or even, dressed like PopTarts. The opening clutch of tracks suggested this was going to be some night but none of us could have predicted the ovation when New Year's Day arrived. What a response
Say it's true, it's true...
And we can break through
Though torn in two
We can be one.
With the flag of Solidarnosc on stage it felt like all the hopes and dreams of this audience were captured in a song.
'Something going on here. There's something going on in this country,' said Bono. 'We could feel it the last time we came. This country is going somewhere very special. Is it faith? Faith in the future. Poland! Europe needs more countries like Poland...'
We sang Happy Birthday to Edge tonight and it felt like everyone was celebrating a birthday. Was it the best show of the tour to date ? Who can tell? If you were here, it probably was.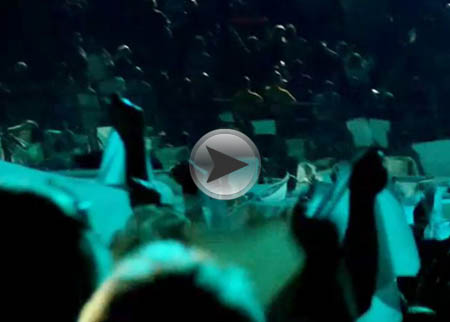 So we enjoyed it, but what about you? Add your own reviews at the bottom of the page. Here's what the band played.
Breathe
No Line On The Horizon
Get On Your Boots
Magnificent
Beautiful Day
Elevation
New Years Day
I Still Haven't Found What I'm Looking For
Stuck In A Moment
Unknown Caller
Unforgettable Fire
City of Blinding Lights
Vertigo
I'll Go Crazy If I Don't Go Crazy Tonight (Remix)
Sunday Bloody Sunday
Pride (In The Name of Love)
MLK
Walk On
Where The Streets Have No Name
One
--------
Ultraviolet
With Or Without You
Moment of Surrender