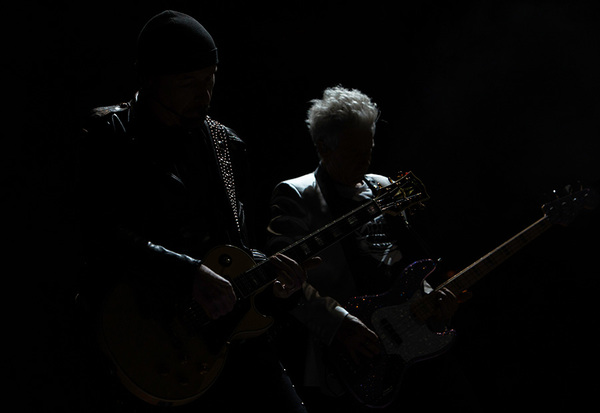 The door is open in Newark, NJ.
'The door is open to go through
If I could I would come too
But the path is made by you
As you're walking, start singing and stop talking...'
When & Where
Friday June 29th 2018, first ever show for the band at the Prudential Center, Newark, NJ and last show but two of this North American leg of the #U2eiTour.
Set List
All Because Of You returns to the set after missing one show, and it felt like everyone in the room joined together for a very moving version of One, dedicated tonight to journalists and reporters and victims of the shooting at the Capital Gazette in Annapolis, MD. Here's the set list.
On The Fansites
Harry Kantas from @U2Songs was at the show and sent us a few reflections.
'The iNNOCENCE and eXPERIENCE theme has been running deep and on multiple levels for the past 3 years. The Innocence Tour in 2015 was about the familiar, the memories, the losses, the gains, the sparks, the fans - your main source of energy, and the songs that came along over the years, that reminded you why you're still around. The Joshua Tree 2017 Tour came to visit that place in time where everything changed. Overnight. And you had to figure out how to handle the changes for yourself, there was no instruction manual. Not in your language, anyway.
The Experience Tour this year, from where I'm standing, is all about taking risks. Change takes risk. That's when you go away to dream it all up again. Or, when you come back to fuck up the mainstream. Be it love, politics, raising your kids, going back, moving on. Acrobat is being played live, for the first time ever. And it's a revelation, night after night. But after years of build up and anticipation, there was a good chance it would never reach expectations live. That was a risk. Mr MacPhisto has come out of the shadows, to laugh in our face. POP is finally back in rotation, being celebrated as U2's psychedelic period. The Joshua Tree is sitting this one out. Risks. Last night in Newark was no exception. The band is in top form. There is a fluidity throughout the show, that only comes when you're relaxed, and really enjoying yourself. Favourite part of the night (besides Acrobat, because Acrobat always wins!): the extended version of Staring At The Sun!'
@U2gigs also posted up a roundup of the day.
'Tonight U2 are taking a break from New York City by crossing the state border into nearby Newark; they head back to NYC on 1 July. This is the group's first concert in Newark. The last time they played in New Jersey but NOT in East Rutherford was all the way back on 12 May 1983 in Passaic. Tonight thus breaks a streak of 26 shows played in the same location. Fans heard two songs so far unplayed this tour during soundcheck: Summer of Love, Every Breaking Wave, and then Summer of Love a second time. Neither appeared in tonight's performance. All Because of You returned to the set after missing one concert. Before Sunday Bloody Sunday, Bono spoke of the bombing of Dublin in 1974 which inspired Raised By Wolves, and how he would have been caught up in it if he had not decided to cycle to school that day. One was dedicated to the victims of the recent shooting at the Capital Gazette newspaper.'
On The Socials
@craigbsnyder (via Twitter) 'Really enjoyed the #u2eitour last night. The staging and video features were amazing. The new songs fit perfectly. Glad to see @u2 on point.'
meatanpotatoes (via Instagram) 'U2 in the round. They did an awesome job of playing the whole arena. There wasn't a bad seat in the house.'
maddyyypryor (via Instagram) 'Got to see @u2 last night at @prucenter and it was insanely bonkers and incredible! Crazy crazy visuals. Awesome show! #u2eitour thank you'
The Newark Prudential Centre (@PruCenter on Twitter) itself had photographers at the show and have a gallery from the night presented on their Facebook page.
Experience(s) Of the Day
@MBinMD (via `Twitter) 'Just finished MRI test. Got through it by thinking of @U2 & being in GA of #U2EITour. The sounds were exact. Hold your breath & relax....'
michele.angermiller (via Instagram) 'A dream come true! Playing a "G" chord on The Edge's guitar! One of them! I can't play like him, though!'
What Did Bono Say?
'(We) dedicate this next song to journalists… to reporters. To people, who at their best give us the very foundation of our democracy.. they give us the facts on which to form our opinions.. they give us truths to guide our understanding… and we need them.. we need them. We need them to help us understand what's going on, and we need them to help us understand each other. We need writers… so we can focus on what unites us rather than what divides us. So, for the Capital Gazette. There is no them, there is only us. This is 'One.'

If you were at the show in Newark, add your own reviews and photos.