Here's the set-list for the second show in Croatia tonight, more coming up. Stand-out moment for us? The fan-organised balloon choreography.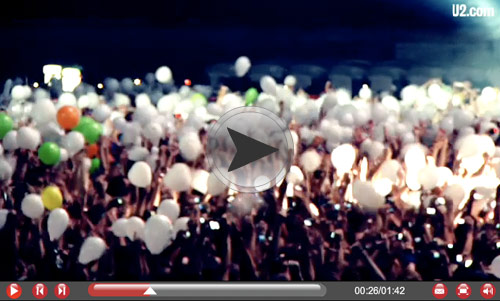 This is what you've been telling us: 'One torch on the East, Simona on the stage, Adriatic right in front of you. I don't want to go to work..'; 'Thank you U2 for making us pride. Zagreb lived those 2 days for you and because of you.'; 'The minute I heard Mysterious Ways I just KNEW this would be different... I get shivers just thinking about it.'; 'This is the music show that I have been waiting for half of my life...'; 'Thanks for coming to Zagreb, it does make a difference to see you here. and you are right, we should forget past and look ahead... and act as one.'
Add your reviews below - favourite track, best memory, moment you'll never surrender?
Breathe
No Line On The Horizon
Get On Your Boots
Magnificent
Beautiful Day
Mysterious Ways
I Still Haven't Found What I'm Looking For
Stuck In A Moment (You Can't Get Out Of)
Unknown Caller
Unforgettable Fire
City of Blinding Lights
Vertigo
I'll Go Crazy If I Don't Go Crazy Tonight (Remix)
Sunday Bloody Sunday
Pride (In The Name of Love)
MLK
Walk On
Where The Streets Have No Name
One
--------
Ultraviolet
With Or Without You
Moment of Surrender