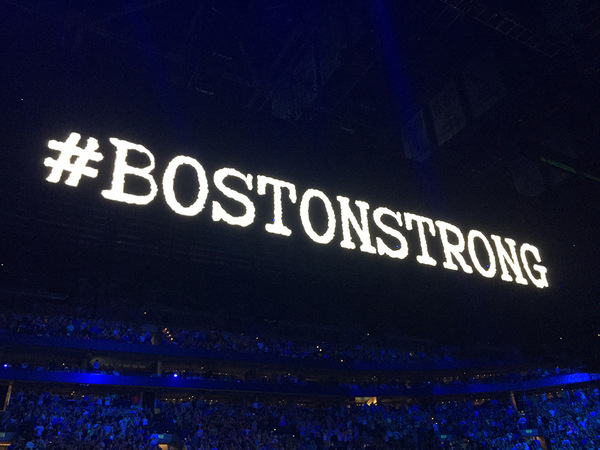 The first of four nights in Boston, and the band were welcomed as only Boston knows how, like it was a 'hometown show' as Bono put it.
He mentioned that they'd played the city 23 times, the first at The Paradise in 1980. 'It's a lucky man who can consider more than one city his hometown'.
Early reviews suggest the locals loved it.
'Like perhaps no other rock band of its era,' reported the Patriot Ledger, 'U2 excels at that mystical quality where melding words and music achieve something infinitely more meaningful than the sum of its parts. It is art that hits you at a visceral level, so that even if you may not know exactly what they're singing about, you intrinsically feel everything they're singing about.
Last night, as U2 opened a four night stand at the TD Garden in Boston, the Irish quartet had all that and more, as the Innocence and Experience Tour adds a dazzling high tech video production to the mix that gave the 20,000 capacity crowd the impression they were not just sharing the band's story, but inside of it at times.'
'I don't want to ruin too much for those going to the shows later this week,' reported The Boston Herald.'But the set is a revelation. It's anti-ZooTV tour and still mind-blowing. The band can wander from one end to the other of the arena, sometimes while inside a video wall that rises 40 feet in the air.'
Our moments of the night?
#BostonStrong on the screen for Pride, highlighting the strength of this city in the face of the Boston Marathon bombing.
'Sing this for all lives that have been stolen by brutality and hatred,
Sing this for Baltimore, Ferguson, Charleston
Sing for the lives lost in this city, April 15, 2013
Sing this for the survivors, so strong, so strong, that no hatred can take their Pride in the name of love
Boston so strong'.
Shoutouts to some special guests tonight:'...my brother, he's here tonight Norman Hewson and his good wife Geraldine. 'It's his first show, I'm a little nervous, he did teach me guitar. And yet he, like the band, seems pleased that I can't play it anymore...'
Special mentions also to Dr. William Li and physicians from the Angiogenesis Foundation in their work to understand cancer. 'These people are the real rock stars in the building tonight.'
And at the end, after 'One', everyone joined in '40', paying tribute to the much missed Dennis Sheehan.
Were you at the show? What were your special moments? Post your own review and add your photos here.