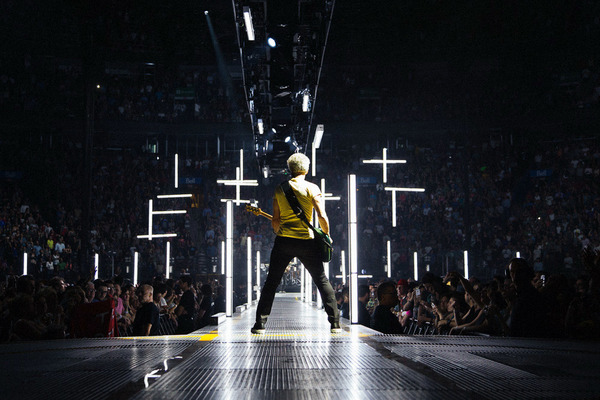 Let's start at the beginning, with Greg Kot in the Chicago Tribune.

'Imagine another arena band 35 years into its career putting so much emphasis on its latest studio album on stage, when a greatest hits show would suffice. U2 came out blasting, with the first song from its new album, "The Miracle (of Joey Ramone)," and made it sound like something worthy of the Ramones. Stripped to its essence of guitar-bass-drums, U2 remains a mighty power trio prodding and pushing a vocalist who didn't let nagging bronchitis get the best of him....'
Some special guests in the house tonight - Chris Rock, Mick Jagger, Susan Buffet - but none as special as this one. 'The most profound influence on this band is of course a man who is seeing the show for the very very first time tonight and without this man we wouldn't be here tonight so its a very important night for us. His first assignment managing U2 was getting us served under age in a pub in Dublin. Paul McGuinness is here tonight, still looking over our shoulder...'
After a six day break, the band were in fine form again... and so were the locals. Impossible to tell if one city really is louder than another but, anecdotally, reported Tim C (@WTSHNN) on Twitter, after some research in May and June, 'Chicago is the loudest crowd of the 4 cities I've seen this tour. Not even being biased.'
It wasn't so long after that pub visit with Paul MCGuinness that the band also started working for Nelson Mandela - remembered with a beautiful rendition of Ordinary Love last night, the song they wrote for the film. Introduced with a special thank you to Norm Winer, program director of WXRT who's supported the band since Boy, Bono talked of how the band have focussed on songwriting lately. 'When you get the songs, the songs, they sorta tell you what to do.' Even a hint that Ordinary Love, which didn't appear on the last record, might turn up on the next. 'We kept one song back from the album and if Edge can make up his mind it will be on Songs Of Experience... Edge is still trying to remix the last album by the way..'
Some of the older songs sounded pretty good too - 'the enduring groove of "Mysterious Ways," always a reminder of why Larry Mullen, Jr. and Adam Clayton are one of the best rhythm sections in rock' - as noted by Jim DeRogatis.
'U2 has got its mojo back.' he writes, reminding his readers that he'd almost given up on the band. And then last night. '...there I was for the opening of a five-night stand at the United Center on Wednesday. And damned if the four-song opening salvo — "The Miracle (Of Joey Ramone"), "The Electric Co.," "Vertigo," and "I Will Follow" — didn't convince me that U2 is as ferocious, focused, and no-nonsense committed as it's ever been, while the four-song closing of the set proper — "Bullet the Blue Sky," "Pride (In the Name of Love)," "Beautiful Day," and "With or Without You" — was enough to negate any accusation of bombast and make the hardest-hearted skeptic once again surrender to the majestic rattle and hum of yore.'
Were you at the opening night in Chicago? What were your highlights? Post your own review and add your photos here.