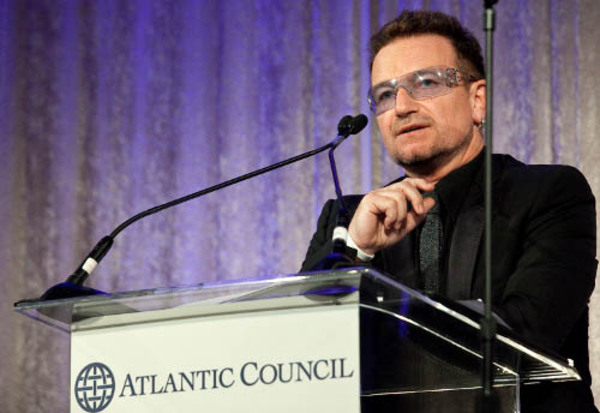 At a dinner in Washington on Wednesday, the US-based Atlantic Council presented its 'Humanitarian Leadership Award' to Bono, for his work with The ONE Campaign and (RED) in mobilizing resources and awareness in fighting disease and extreme poverty in Africa.
Introduced by Senator John McCain, Bono's acceptance speech explored the interdependence of global development and international security.
'Now, I look at John McCain, a former military guy; I look out at this audience; a lot of military past and present, a lot of brass, spit and polish. And I wonder who let the peacenik in?
'I want to answer the question with a question of my own: Who are all the other peaceniks that are in this room and the ones with the stars and bars on their formalwear? You, because I'm talking to you, military men and women, as well as the politicians who've been out there making our argument for us and making it so powerfully: the idea that America has a stake in the ending of extreme poverty. It's an extraordinary thing to see.'
Transcript of Bono's Speech
here.
Latest from ONE
here.