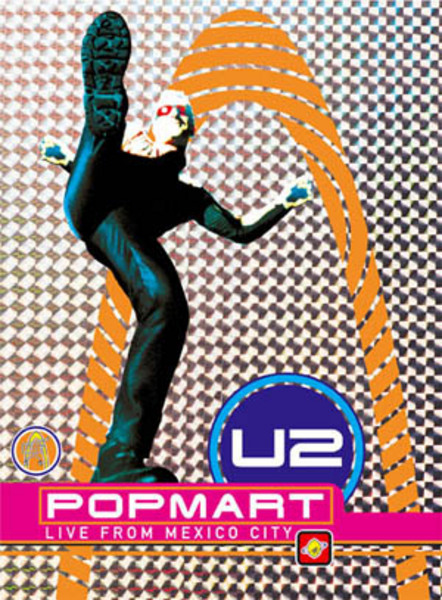 A DVD version of 'PopMart Live From Mexico City' is released today.
First reviews
here
Billed as a 'sci-fi disco supermarket', the PopMart Tour opened in its 'spiritual home', Las Vegas, on 25th April 1997. 'PopMart Live from Mexico City' was filmed at the Foro Sol Autodromo in Mexico City in December that year and directed by David Mallet. Shot on analogue video - and originally released on video in 1998 - for its DVD debut it has been transferred to a digital format with re-graded pictures, remastered audio and mixed in 5.1 Surround Sound.
The DVD comes in a Standard 1-disc format, featuring the concert, and a Special Limited Edition 2-disc format, the 2nd bonus disc containing unreleased live audio and video material, including documentaries, a PopMart tour visuals montage, and DVD-ROM extras.
Here's the track listing:
Disc One:
Pop Muzik / Mofo / I Will Follow / Gone / Even Better Than The Real Thing / Last Night On Earth / Until The End of The World / New Year's Day / Pride (In The Name Of Love) / I Still Haven't Found What I'm Looking For / All I Want Is You / Desire / Staring At The Sun / Sunday Bloody Sunday / Bullet The Blue Sky / Please / Where The Streets Have No Name / Lemon (Perfecto Mix) / Discotheque / If You Wear That Velvet Dress / With Or Without You / Hold Me, Thrill Me, Kiss Me, Kill Me / Mysterious Ways / One / Wake Up Dead Man
Performance from Foro Sol Autodromo, Mexico City, filmed 3rd December 1997
Director : David Mallet
Producer : Ned O'Hanlon
Executive Producer - Paul McGuinness
Show Designer/Director - Willie Williams
Bonus disc (special limited edition format only)
1. Bonus live tracks
- Please / Where The Streets Have No Name / Discotheque / If You Wear That Velvet Dress All recorded live at Feyenoord Stadium, Rotterdam on 18th July 1997
- Hold Me, Thrill Me, Kiss Me, Kill Me / Mysterious Ways / One All recorded live at Commonwealth Stadium, Edmonton on 14th June 1997
2. Bonus video tracks
- Staring At The Sun (Miami version)
Directed by Morleigh Steinberg
- Last Night On Earth - First Night In Hell (Remix version)
Directed by John Bland
3. Documentaries
- Lemon For Sale
- The Road To Sarajevo
- A Tour Of The Tour
- Last Night On Earth ? One Day In Kansas
4. PopMart Tour Visuals Montage Curated by Catherine Owens
5. Extras
- DVD-Rom: Weblinks, Wallpapers, Screensavers
Aspect: 4:3
Sound: Disc 1: PCM Stereo, Dolby Digital 5:1 Surround, DTS 5:1 Surround
Bonus Disc: PCM Stereo
Duration: Disc 1: 2 hrs 6 mins
Bonus Disc: 1 hr 31 mins
Language: English
Subtitles (Bonus disc only): English, French, German, Spanish, Portuguese (not including any subtitling of songs)
DVD: Disc 1: DVD 9
Bonus Disc: DVD 5