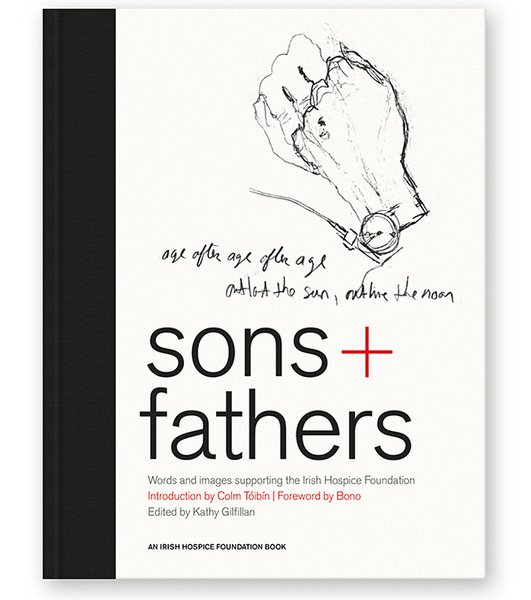 Some of the world's best known men, including President Bill Clinton, actors Gabriel Byrne and Daniel Day-Lewis and musicians Paul McCartney and Bob Geldof have contributed to a new Irish Hospice Foundation book celebrating the unique relationship between sons and fathers. Larry, Edge, Adam and Bono have all contributed.
'Sons + Fathers', to be published for Father's Day, was inspired by drawings Bono made of his own father, as he reached the end of his life. While the words and images in the new book are mainly of the fathers themselves, they are also revealing about the authors, their sons.
Edited by the writer Kathy Gilfillan, 'Sons + Fathers' is powerfully introduced by author Colm Tóibín.
'Bono planted the seed for this book with his generous gift of the drawing he made of his father when he was dying,' explained Sharon Foley, CEO of the Irish Hospice Foundation. ''He asked if they could be used to raise money for the Irish Hospice Foundation so we decided on a book and the net was cast wide and far.'
Contributors from the world of film include: John Boorman; Daniel Day-Lewis; Gabriel Byrne; Neil Jordan: Paul Cusack and Colin Farrell. As well as the members of U2, contributors from the world of music include Paul McGuinness, his son Max, Paul McCartney, Bob Geldof, Julian Lennon and Gavin Friday. Literary figures include John Banville; Roddy Doyle; Robert Fisk; Paul Auster; Mick Heaney; Colum McCann; Joseph O'Connor and Salman Rushdie while contributors from the world of politics include President Clinton, Alastair Campbell and Bobby Shriver.
Sponsored by Park Hyatt and published in aid of the Irish Hospice Foundation, the book will raise funds for the Irish Hospice Foundation's Nurses For Night Care Service as well as for Hospice Africa Uganda, founded by Noble Peace Prize nominee Dr Anne Merriman.
More information and pre-orders here.