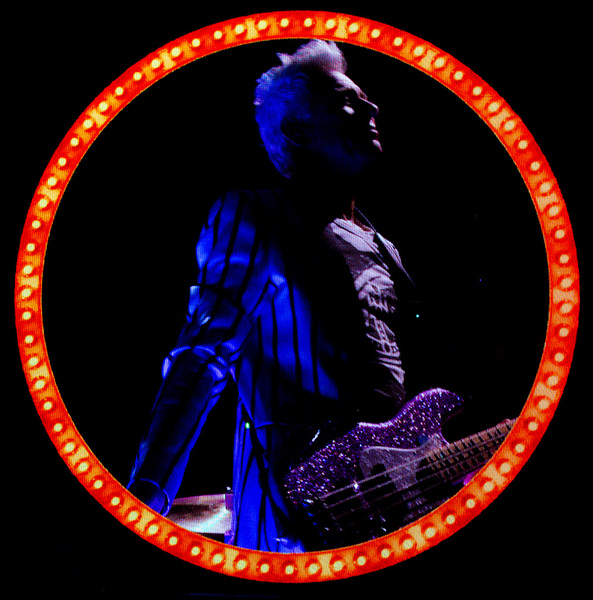 Ten Reasons To Celebrate Adam Clayton
Poet and playwright, Gary Jermyn has known U2 since schooldays. Who better than an old friend to pay tribute as the firstborn of the band arrives at a milestone birthday.

Apart from 'being one of the great bass guitarists of all time' Gary came up with another ten reasons to celebrate Adam Clayton.

Add your own birthday greetings and memories in the comments below.

HE HAS A KEEN SENSE OF BU-BA-BU
Adam was born in Chinnor, Oxfordshire on 13 March 1960, the same day as Ukrainian poet Yuri Andrukhovych was born in Ivano-Frankivsk. Yuri co-founded the famous Bu-Ba-Bu poetic group which translates as 'burlesque, side-show, buffoonery'. Adam too loves a wee bit of Bu-Ba-Bu. For example, he knows how to make a snow angel.
When our kids were small, Adam invited us to lunch at his home in Rathfarnham at the foothills of the Dublin mountains. It was winter and it had been snowing, which is not something that happens often in Ireland. We went for a walk in the woods and when we came to a clearing, Adam lay on his back in the snow. The kids thought he was mad. Then he started moving his arms up and down, and his legs from side to side. The kids thought he was madder. "I'm a snow angel" he shouted and suddenly they realized what he had become. Then they all lay in the snow and turned themselves into snow angels!

HE'S GREAT WITH KIDS
We were on holidays with our two kids in Venice and it was New Year's Day. All was quiet. My wife & I had been up early trying to entertain the kids, climbing bell-towers and counting bridges. Adam paid us a visit and bought the kids hot chocolate and Prada runners. He offered to give us a break. He took the kids for a walk through the narrow alleyways between the canals. As they headed off, I caught a glimpse of them chatting away, about what I don't know. Then I saw my 5 year-old son Charlie reach out his hand, and Adam taking hold of it. That movement of one small hand reaching out for the other is forever etched in my memory, and always makes me smile.

HE LOOKS OUT FOR OTHERS
Adam told me a long time ago that its important to look out for friends who live on their own. He explained that they are more vulnerable; they need more looking out for than people who live with a partner or a family. He's really good at checking in with friends and I know how much they appreciate that.

HE LOVES HIS GRANNY
Who doesn't ? But I remember in those early U2 days when U2 were playing Wembley Arena for the first time, with The Waterboys as support, we met at the Millennium Hotel in Sloane Street and the band had organized a bus to bring family and friends out to the gig. It was my first time to travel to a gig in such style, in a bus with a TV! I sat beside Adam's granny and she spent a lot of the journey telling me how proud she was of all her grand-children. But she was particularly proud of Adam that night!

HE'S NOT INSTANTLY RECOGNISABLE AS A ROCKSTAR
A few years ago when U2 were playing the O2 in London, Adam dodged the notorious London city centre traffic by taking the Tube to his own gig, and he wasn't hassled at all. Another time, we were at a birthday party near Wexford Town and we stayed in a B&B on the edge of town with notions of grandeur. At breakfast the next morning, the waitress asked me for my autograph. I asked who she thought I was. "You're Adam Clayton from U2" she replied. I turned to the staircase, Adam was descending in a leopard print bathrobe and blue suede slippers. "This is the man you seek" I said, and the waitress was thrilled as Adam gave her his autograph.

HE IS A SNAPPY DRESSER
Apart from one photograph of Adam wearing a chamberpot on his head after an early show in the Project Arts Centre, with the Virgin Prunes in support, he always comports himself in a very stylish manner. He scrubs up well, when he wears a suit he can look like a Tory politician, and he has a great taste on stage in t-shirts and leather jackets, frequently channeling Paul Simonon of The Clash. After a gig, he has a beautiful skyblue Kimono in which to relax and meet wellwishers. He is always "on trend" which is in no small way due to the help and guidance of his stylist Sharon Blankson! And of course, occasionally he wears nothing at all - even on the cover of an album.

HE HAS A BEAUTIFUL SPEAKING VOICE
Not only has he a beautiful speaking voice, but he speaks with beautiful and inspiring clarity. Examples of this: Just listen to Adam speaking the last verse of "Your Blue Room" on Passengers; his interview with Ryan Tubridy on RTÉ Radio to launch the thirtieth anniversary tour of The Joshua Tree in early 2017; or the honesty of his speech later that year when he talked about his recovery from addiction, at a MusiCares MAP Fund concert in New York.

HE IS GENEROUS IN SHARING LESSONS HE HAS LEARNT
At that MusicCares concert, Adam was honoured with the Stevie Ray Vaughan Award. He thanked Edge, Bono and Larry, his band colleagues in U2, Pete Townsend from The Who and Eric Clapton, who he said was always there on the end of the phone for him, to help him through this difficult time in his life. But Adam too learnt from the help he received, and passed it on. A simple case in point: I have a young musician friend who has struggled over the years with alcohol addiction. It's really hard for musicians because there's so much gigging is in pubs and clubs, at night, surrounded by temptation. I asked Adam would he mind calling my pal and having a chat with him. Adam was brilliant, called him up, shared his experiences, difficult as they were, and provided great support. He was, like Eric Clapton had been for him, always at the end of a phone.

HE HAS GREAT TASTE IN ART
"The Birth of Venus" is a renaissance painting by Sandro Botticelli which hangs in the Uffizi Gallery. It depicts the goddess Venus (as naked as Adam Clayton on the Achtung Baby album cover) on a scallop shell being blown ashore by the wind-god Zephyr. Five hundred years later Andy Warhol did a series of screenprints inspired by Botticelli's Venus in which he turned Venus into a Hollywood Starlet. Adam has a version of this in his house. Both Adam and Mariana share a passion for contemporary art.

HE IS KIND
It was the novelist Henry James who said "Three things in human life are important. The first is to be kind. The second is to be kind. And the third is to be kind." In my experience, Adam is kindness personified. I am lucky to know him.