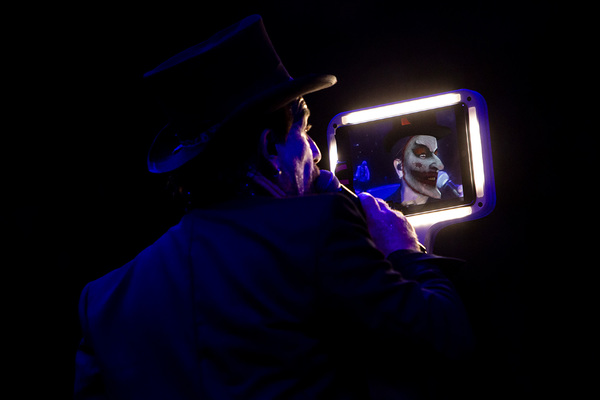 The name is MacPhisto.
Greed, lust, deceit, vanity… second night in Las Vegas.
'Pleased to meet you
Hope you guess my na
The name is MacPhisto…
I sometimes dress up as Mick Jagger
Oh Las Vegas, when you don't believe I exist
That's when I do my best work…'
When & Where
Macphisto, Jagger.. even Elvis (L.A. Dodgers version) was in the building for this, Show 6 of U2eiTour. Second and final night at the T-Mobile Arena, Las Vegas, Saturday May 12th 2018.
Set List
Act 1 was shuffled around a little this evening, with Beautiful Day moving later to follow Gloria in tonight's set (that's four shows in a row now 'in te domine'). Here's the complete set list.
Social Posts
@hringman (via Twitter)
'U2 was amazing, and the show was maybe the coolest one I've ever seen. Visually stunning, it seemed very appropriate to see them in Vegas'
@harrykantas (via Twitter)
'MUCH better having Beautiful Day later in the set today, my feet barely touched the ground until Gloria was over'.
@summatime69 (Via Twitter)
'Two nights of brilliance in Las Vegas! Thanks, gentlemen'.
In The Press
Jason Bracelin / Las Vegas Review-Journal :
'Star-spangled bullhorn pressed to his lips, his voice boomed as torches blazed. "This is not America," Bono declared as footage of white supremacists marching in Charlottesville, Virginia, last August aired on the football-field-long video screen, displayed with a crispness that captured their anger down to their pores. "This is America," the U2 frontman said, then pivoted as the scene shifted to an equal rights gathering, the faces changed, the passions similarly palpable. A couple of numbers later, a three-story American flag was unfurled from the rafters of T-Mobile Arena as Bono brandished his bullhorn once more, this time in the service of "American Soul," a propulsive rallying cry with a bullying bass line and flecks of wah-wah guitar. During the song's verses, Bono sought to articulate what America means to him. "It's not a place," he sang. "This country is, to me, a sound." "It's not a place," he elaborated. "This country is, to me, a thought." Defining America as an intangible — a sound, a thought — means that it signifies something more than a nation with clear, established borders, something capable of resonating with an Irishman as much as a native. His point: America is an ideal as much as a broad swath of land, and sometimes that ideal needs defending….
…All of this added an air of tumult, equivocation and emotional turbulence to a band whose catalog is, more often than not, meant to uplift.
That spirit was present on this night as well: The difference this time around was that it was tempered by uncertainty. There were moments of doubt here, and the clear sense that if there is any hope to be had, it's something that has to be fought for.
It's not a given. "I know the world is done," Bono sang on show-closing ballad "13 (There is a Light)," underscoring this sentiment. "But you don't have to be." "There is a light. Don't let it go out," he implored as the song reached its conclusion, plucking a light bulb out of a model of his childhood home on stage. Then, in a flash, he was gone. And on came the lights'.
If You Had To Pick One Song
"This is a song about stubbornness, political blindness… the kind that could tear up a home, or tear up a nation…, it's from quite a cool album called Pop"
A cool acoustic version of Staring at the Sun. As stats demons @U2gigs noted : 'These two nights are the first time it has been played in Las Vegas since its 'shambling' live debut here on 25 April 1997' Indeed. Sometimes stubbornness pays off.
What did Bono Say?
"Where's those lights Las Vegas, turn on those lights". "Lets see you.. out in the desert… look what you built." (Lights of Home & I Will Follow)
"Anybody here from Mexico? What a great country you've built here in the United States of America! Are you ready? Uno, dos, tres, catorce!" (Vertigo intro)
"What do you desire tonight Las Vegas? A quiet night in? I don't think so.. no, you're looking for the company of thunder!… Of Larry Mullen Jr!.. You're looking for a man who shakes the very ground he walks upon.. the best looking earthquake this side of the San Andreas Fault.. on the bass Adam Clayton!… You desire.. an intensity of light so white hot he could black out the Strip outside… also.. quite a good guitar guitar player.. You desire The Edge! Am I right? AM I RIGHT? Have I got an Amen?"
Shout-outs to local (RED) Warriors Brandon Flowers and Jimmy Kimmel, Ryan & Cindy (Poverty is Sexist)
"Unity feels impossible to reach sometimes whether it's within yourself, inside your home or even within a country, but we do need each other, there's no us and them, there's no them, there's only us" (Please join us for 'One')"
Review on U2.com / Zootopia
Noriluche : 'Viva Mexico at Las Vegas!! Made my day! Nothing better than hear a powerfull Viva Mexico from u!! What an amazing night full of energy and emotions whit a key message around: LOVE IS BiGGER THAN ANYTHING IN ITS WAY!!'
And if you were at the show in Las Vegas, add your own review and upload your photos.