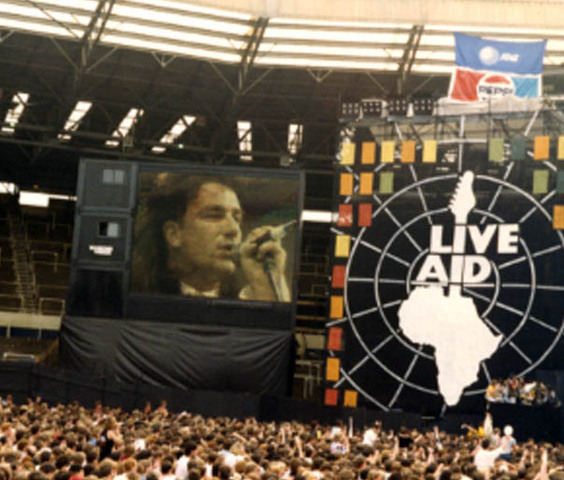 'If you twist and turn away...'
We asked you to tell us your stories about an unforgettable U2 song - the one that matters most to you and why.
You wrote about scores of different tracks from the U2 canon but certain songs just kept coming up - again and again.
This is what you told us about
'Moment of Surrender'.
Here we've pulled more of your stories together to answer the question,
'What is it about... Bad?'
And, from the archives, we've dug out the Barry Devlin directed video from The Unforgettable Fire tour back in 1984.
Not yet told us a story about your own unforgettable song ? You still can. Does '40' lift you up out of the miry clay? Does 'Please' get you up off your knees? Are you walking on because of Walk On? (You get the idea...) Tell us about that song
here
.
SO.... WHAT IS IT ABOUT 'BAD'?

1. It prompts a visceral reaction. 'Colours crash, collide...
'
From what many of you have said, Bad seems to reach deep. "My reaction to Bad was visceral," writes Hilda Canes Garduno. "Goose bumps. I wanted – no, needed – to know who this band was. The lyrics, the melody, that guitar… So began my journey as a U2 fan. I was 13 at the time; I'm now 35."
Wideawakeinamerica's avatar betrays their allegiance: "To this day, every time I hear Bad play, it gives me chills and reminds me of a time when I had to fight harder than I ever have before. And when I see what my life is like today, I am extremely grateful that I did."
"I've never had a song touch me so deep, stir my soul, and make me lose myself completely," reports Barbrocks. "There's something so hauntingly beautiful about it that makes me ache for more." Barbrocks' only complaint is that "in all the U2 concerts I've been to, which is around 10, I've only seen Bad performed twice. I wish they would play it more often."
2. It was a defining moment for the band at Live Aid...
The Live Aid performance in 1985 - coming at the end of the Unforgettable Fire tour - became a defining moment in the rise and rise of U2. The band, however, felt very differently at the time.
"We were supposed to play three songs, 'Sunday Bloody Sunday', 'Bad' and 'Pride', which was our hit. But then Bono went missing," recalls Adam, in U2 by U2. "In the middle of Bad," remembers Larry, "he want on a wander trying to pick out some girls to dance with. It felt like he was gone forever. We were quite jittery as it was, and when Bono went missing, a certain panic ensued."
"I was totally thrown," remembers Edge. "And I'm looking at Adam and Larry to see if they know what's going on and they're looking back at me with panic on their faces. Next thing I spot him way down below clambering over the last of the barriers to get to the people..."
The song lasted fully 12 minutes, and Paul McGuinness was watching from the wings of the stage, as the rest of the world watched on TV. "We all thought he had completely blown it," he said.
"The band were very, very upset," recalls Bono. "They nearly fired me."
As it was, the world saw it differently. Bad turned out to be very, very good for U2. "It really took us by surprise when people started talking about U2 as one of the noteworthy performances of the day," says Edge. "I thought they were joking. But... I started seeing it for what it was. It was the real sense of jeopardy, which is always very exciting for a live event, and Bono's complete determination to make physical contact with the crowd..."
"Bono's journey really meant something, it carried the emotion of the day to people. So his performers's instinct was right," concluded Adam. "Again."
3. It aids physical recovery.
Chrisvertigo is one of those who fell in love with Bad after hearing it live at Live Aid, but "it has become extra special for me since then," he adds. "In 1998, I had a rock-climbing fall (three days after my honeymoon) which left me in a coma for four weeks, and Bad became the song that I clung to during the next few years of recovery..."
To this day, he reports, as soon as it starts playing, "tears come to my eyes and I remember the whole journey, recovery, my wife's pain/hope/love throughout, the subsequent trials and tribulations... "I'm wide awake," he concludes, happily enough. "I'm not sleeping..." Oh no, no, no.
4. It's a song which welcomes other lyrics and melodies.
Bad is one of those moment in the live set when Bono loves to introduce fragments (or more) of other songs. We've heard everything from the now-familiar lines of staples like Walk on the Wild Side, Ruby Tuesday and Sympathy For the Devil, to shards of U2 (Elvis Presley and America, When I Look at the World, Sweetest Thing, Walk to the Water, Yahweh...) - and the unexpected: You've Got to Fight for Your Right (To Party), Need You Tonight, Champagne Supernova, Waltzing Matilda and - ahem - The Lion Sleeps Tonight. (A-wimoweh a-wimoweh.)
Bono usually sings these after the line "I'm not sleeping", of course. Any ideas, however, as to where Bad itself has featured as a fragment of its own within another U2 song? The answer ? 'All I Want is You', a handful of times, on the POPMART tour in 1997.
5. It has great "Oooh woohs".
So, this might seem trivial, but Conakry makes an important point. "The way Bono sings the 'Oooh wooh part' with so much feeling... Bad to me is their best song."
It's true. A band can have amazing lyrics, incredible effects, dazzling stage shows, but is it any substitute for great Oooh woohs? Think about it: Sympathy for the Devil by the Stones. Buddy Holly by Weezer. Song 2 by Blur. Bad is in good company, for sure.
In the comments below, tell us what Bad means to you.