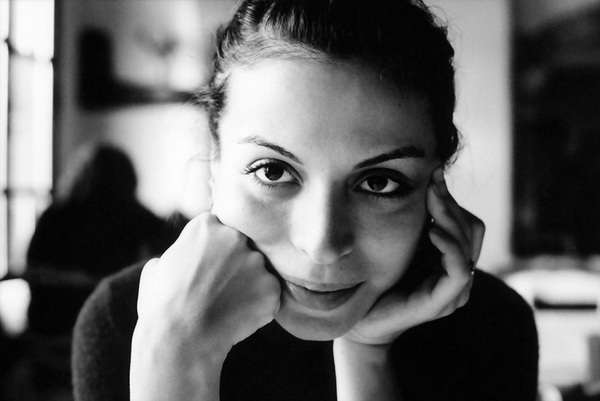 Why Am I Walking Away
Filmmaker Tatia Pilieva has directed a short film to accompany 'You're The Best Thing About Me'. Cathleen Falsani spoke to her for U2.com.

In the midst of preparing to shoot a short film for 'You're The Best Thing About Me' in June, the unexpected death of a loved one helped filmmaker Tatia Pilieva decide on the story she wanted to tell in the piece.
'I mean, it's a love song,' Pilieva said over late afternoon lattes in Los Angeles last week. 'So I was trying to figure out an interesting way to highlight love by bringing people together, and I was not coming up with any good ideas. Then my grandmother passed away. So I flew to the Republic of Georgia, which is where I'm from, and spent 24 hours there, saying goodbye to my grandmother and all these people that I love, because all of my family is back there.
'I hadn't slept for two days and I'm sitting on the plane and it just hit me: what's interesting is not the bringing people together; it's the separation," she said.
Pilieva, born in the Republic of Georgia, immigrated to New York City in 1993 as a teenager and attended the United Nations High School before earning degrees in film at Bard College and the American Film Institute, rose to prominence in 2014 when her 3.5-minute-long film First Kiss—she invited 20 strangers to smooch for the first time on camera—became a viral hit with more than 123 million views to date. It also won a Gold Lion at Cannes Lions and a Clio award. Her first feature film, 2015's Forever, starring actress Deborah Ann Wall (True Blood), and she's directed several other award-winning short films, all centered around vulnerability and human relationships.
She decided the film for 'You're The Best Thing About Me' should be a documentary about couples who, for various reasons, were being forced to separate.
Pilieva and her team found four couples from diverse backgrounds and followed them for the last 24 hours they were together before one partner had to leave.
A newlywed military couple.
High school sweethearts.
A Syrian refugee family in Greece.
A young couple from Mexico City.
'The key for me is that when these people are saying goodbye, they are still very much in love,' Pilieva said. 'I didn't want to film a bunch of breakups. I didn't want to put that into the world. I wanted to put out something positive. Yes, it's positively heartbreaking, but there's love all over it.'
None of the people who appear in Pilieva's film for 'You're The Best Thing About Me' are actors. Nothing was scripted. It's 100 percent real and the action unfolded in the 24 hours before each couple were separated for a variety of reasons.
Filming was set to begin in July, with the military couple. But first, Pilieva had to find them—no easy feat.
Ciara & Alicia: 'We've been married for three weeks and one day'
Newlyweds Ciara and Alicia agreed to appear in the film, four days before Ciara's first deployment—and two days after the president announced his intention to ban transgender persons from serving in the U. S. military on July 26. Pilieva says she wanted to film them two minutes into a Skype call with the couple because they seemed like such striking, intelligent women deeply in love. Alicia is a former Marine and veteran herself, and the couple are fans of U2.
'Huge fans,' Pilieva added, 'I was shocked to the point that I was like how did I find someone like you?'
It wasn't until the morning before Ciara deployed that Pilieva received the go-ahead from the powers that be to film them. The couple gave filmmakers exceptional access on what would be a massively emotional day.
'They even gave me the code to their house so I could film them waking up. I waltzed in and made them coffee,' Pilieva said. 'I was just trying to be a fly on the wall and earn their trust so they could just let their emotions out as they needed to.'
Mission accomplished.
'I personally drove Ciara to the base and to the airport and I was the one who gave her the last hug. We couldn't film [on the military airbase] but I was there.' Ciara and her wife said their goodbyes in the parking lot. 'They were crying the whole time. I mean, I was a mess and the two grown men with me—my husband [her frequent collaborator, cinematographer Andre Lascaris] and our sound man, Chris, who could hear better than any of us—he was in tears.
'It was heartbreaking. To some degree I think it's important to fall in love with the people you work with, whom you portray, and there was so much love all around,' she said.
The next couple Pilieva and her team filmed were high school sweethearts from Los Angeles.
India & Matthew: 'I just can't imagine what life would be like without her'
'The first thing you noticed is how in love they were,' Pilieva said of India and Matthew, both 18, who were about to separate in early August when India left for college at the University of California, Berkeley, while Matt stayed behind, heading off a month later to the University of Chicago.
'That first love was written all over them, and they were so heartbroken, they couldn't pull their emotions together,' Pilieva said. 'They had no idea how to navigate this stage together… First heartbreak. He took it hard. In a way, the hardest [of any of the subjects in the film.]'
Matthew and India had been together for four years—since they were 14.
Sounds a bit like Bono and Ali - Pilieva had not heard the story behind how the lead vocalist came to write 'You're The Best Thing About Me'.
When U2 premiered the new single at their Indianapolis show on September 1, Bono told the audience the song's backstory: 'It's a song,' he explained. 'Written about a dream I had—a nightmare, really—where I woke up in a strange house and honestly dreamt this, that my wife and my kids had left me. And then I realised I was in this strange house. I thought: No, I've left them. I don't know where this came from… but I told my darling wife Ali and she just laughed at me and she said: 'It's OK. I'm not going anywhere. You're not going anywhere. And if you wanted to find the door, you wouldn't even know where it was, would you?'
After the broken-hearted teens, Pilieva headed to Greece to film a Syrian refugee family on the island of Tilos, the day before the husband was leaving for Athens to find work to support his wife and five children.
Maha & Abed: 'God willing we will see each other again soon…'
Married for nearly 15 years, after fleeing their home in war-torn Syria, Maha and Abed, along with their five children ages 13 to 10 months, have been living in a Isobox at a refugee camp on the Greek Island of Tilos.
'Can you imagine having five children and being in a refugee camp?' Pilieva, who with her husband, who also happens to be Greek, has a two-year-old son. 'Beyond the idea of love, I did want to say that we are all the same, and that while love is very profound in the moment you say goodbye, it's also unifying. We all know that feeling.'
As we meet them in the film, Maha, 30, and Abed, 40, tell the story of their first kiss—on the cheek. 'As they say, their love story started with a falafel…and they are very much in love,' Pilieva said.
'They are observant Muslims and their dynamic was very fair and equal. She's a very strong, tough, opinionated lady. And he's a chef,' she recalled, adding that Abed was leaving because people in the camp and volunteers who work there realized what a talented chef he is and helped him find work in Athens—a 15-hour ferry ride from tiny Tilos.
'He left to go work so he could support them,' Pilieva said. 'And he had to leave his wife and five children behind. My God, that was hard. And that boat was late and that goodbye was so long. I mean, it was torture.'
From Tilos, Pilieva traveled to Mexico to meet the last couple in the film.
Natalia & Gonzalo: 'Te amo. Ya no te meires el espejo siempre eres hermosa.'
'I love you. Do not look in the mirror, you're always beautiful.'
Those words are hand-written in Spanish by Gonzalo on a card stuck to the mirror of Natalia's bathroom in Mexico City. The twenty-something couple, who met in culinary school, have been together about four years.
When we meet them, Natalia is preparing to move to Paris for work.
'They were just a bundle of joy,' Pilieva said. 'They started as friends, became best friends, and then became lovers.' Both aspiring chefs, when Natalia received the job offer in Paris they debated for a long time whether she should take it, not knowing what it would mean for their relationship if she left.
'He couldn't follow,' she explained. 'You can't just go and work in Paris. But it was too big an opportunity for her to let go of and they chose for her to take it."
They remain deeply in love and share a similar passion. 'When I spoke to her about her dream-case scenario, she said she wanted to have a small pastry shop. And I think he wants to have a Michelin star,' Pilieva said. 'But he also said he could imagine them, if life works out, in a small town in Mexico where they run a tiny place, and they cook together, and they know all the people who eat there.'
The couple, who still were living separately with their parents in Mexico City, didn't break up when Natalia left. But they have no idea when they might again see each other.
'He was crushed,' Pilieva said of Gonzalo, who was joined by Natalia's two sisters, mother, and her abuelita at the airport to bid her adieu. 'I thought he was going to die. It was just so, so hard.'
Pilieva and her team filmed the couple in Mexico City just a few days before the massive 7.4 quake struck the city. (She phoned Gonzalo minutes after the earthquake and he, along witih everyone in Natalia's family, are safe and well.)
Pilieva has long been fascinated by Mexico and its rich culture. While her choice to film in Mexico City might seem providential, it was not influenced by the band, who are set to perform concerts at the Foro Sol stadium there on October 3–4.
'I love the country as a whole and secondly, the conversation about what's happening south of our border is really interesting and important,' she said. In choosing couples for the film, 'I cared about the reasons for separation and their background, where they came from. I had to look at the big picture. So you had refugees, you had military, sweethearts, and I wanted to talk about immigration but not in an on-the-nose kind of way.
'In that same way, if you don't know much about refugees, I hope Maha and Abed's story doesn't scream at you REFUGEE! They are really no different than my husband and me trying to raise our two year old…. The way we approached the film was let's make sure the audience understands the people as people—as human beings…They're people and they happen to be refugees,' she said. 'We need to connect just as people. We need to feel.'
'Once the idea was there and we filmed and I started to pull it together, the relationship between the song and the film were so natural,' Pilieva said. 'I was worried because I was filming with dialogue and you don't know if it's going to gel. But the moment I started putting it together—oh no, it works. They were meant to be. It's this beautiful, organic relationship.'