'This is where we live…'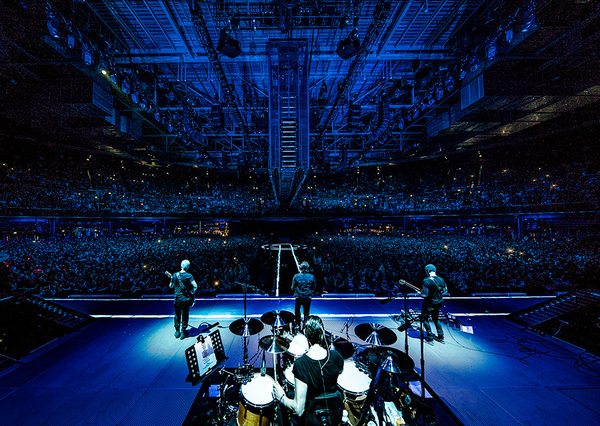 When & Where
Final Night of 4 at the 3Arena, Dublin, Saturday 10th November 2018
Setlist
'This is where we live. This is Dublin. And even in the rain we think it's the greatest place on earth…Thank you for coming out tonight.
The last of our four shows in our home town, the last show in our home town till God knows when. Yeah.. It's a Beautiful Day alright.'
Did the fourth night in Dub top the lot? If you were there you can tell us.
Gloria stayed in the show along with Dirty Day, but the night's surprise was Landlady, only the third live performance.
Dublin was blessed. In fact, Dublin is blessed as Bono explained at the end of Get Out Of Your Own Way.
'Blessed is Dublin for she is a broadsheet ballad.
Blessed is the Rocky Road to Dublin
Blessed is Raglan Road, where old ghosts meet
Blessed is the Auld Triangle and the Royal Canal.
Blessed is the corner of Beggars Bush
Blessed is Waxie's Dargle.
Blessed is the Foggy Dew.
Blessed is the city of Luke Kelly and Ronnie Drew
Blessed is the blue above the Europe we share and may the yellows stars never fall upon our heads
Blessed is Dublin a great European city
The Dublin of Shane McGowan, Jim Sheridan, Neil Jordan, Glen Hansard, Robbie Keane, Paul McGrath, Brian O'Driscoll, Katie Taylor, Mannix Flynn, and the Queen of Ireland Panti Bliss….'
Here's the set list from Dublin 4.

On The Socials
@bethandbono (via Twitter) 'Wild Horses live is the purest thing in this world. I'm 39 and 13 at the same time. They are absolutely amazing with it… The Liffey is a little higher tonight with the number of tears shed in 3Arena. Oof. Top @U2 show for me.'
joni - @jzcanuck via Twitter DM. "As I walk to 3arena for the 4th show of the U2eiTour in Dublin I see the famous red and white chimneys in the distant harbour and hear the seagulls' call. The opening notes of Pride immediately enter my mind and I remember watching this video so many decades ago from a small town in Canada as a young teenager. At that time it was a distant dream that I could visit Dublin let alone to see you U2 live. Yet here I am dreaming out loud and my heart is bursting with gratitude and joy. Like so many fans my life journey has taken me from the innocence of watching U2 through a TV set in a far away place to the experience of feeling the powerful force of the band, the music and the fans, right in front of me." This U2 band of four extraordinary men is about big ideas and big dreams catalyzed by the fire of youthful innocence and re-fueled continuously by the wisdom and determination of experience contained within something even bigger- love.'
@u2gigs (via twitter). 'Get Out of Your Own Way. Bono, in transition from Pride: "We have a dream too... a European dream, a French dream, a Danish dream, a Polish dream, a Dutch dream, an Italian dream, an Irish dream... we're not going back.'
@_bigwave_ (via Twitter). '#U2eiTour Dublin... it the end? Is it bollocks. Berlin bound... Dublin felt historic however. Blessed indeed.'
Experience Of The Day
#pinkadam really does not need an explanation, it has fast become one of the fan iconic images of the #U2eiTour… and today the lady behind it all got to meet its' inspiration and his bro.
'These gentlemen are a full on class act'.
What Did Macphisto Say?
"Bye bye, Dublin. MacPhisto's disappearing for a while. Not gone, mind. Just slipping out of sight ..."
U2.com / Zootopia Reviews
valeriafoschi. 'I'm weightless when U2 are there. Thank you for this final show of this tour at home. Been blessed that I could be at all 6 (incl. Belfast). U2 don't just write songs, they become part of your life and touch so many people across our planet it's incredible. Tonight the audience was magnificent and gave them back so much love and appreciation. Bono, again, has such acumen in his words, I do hope his message about remaining as One will inspire our people to not wreck the good work done so far on this island. Thank you U2 for accompanying my life and giving it a soundtrack. And thanks for The Landlady and Dirty Day, one for my mum, and one for my dad, wherever they are now. Thank you for great entertainment tonight. I do hope you'll be back soon!'
redpanda27 'Saw all 4 Dublin shows and although each one was epic, this last home show was truly something magical. What a night, what a crowd, and what a joy to get Landlady. Such a special treat. Thanks lads, it's been top class, as always!'
What did you think? Were you at the show ? Post your reviews and add your photos below.