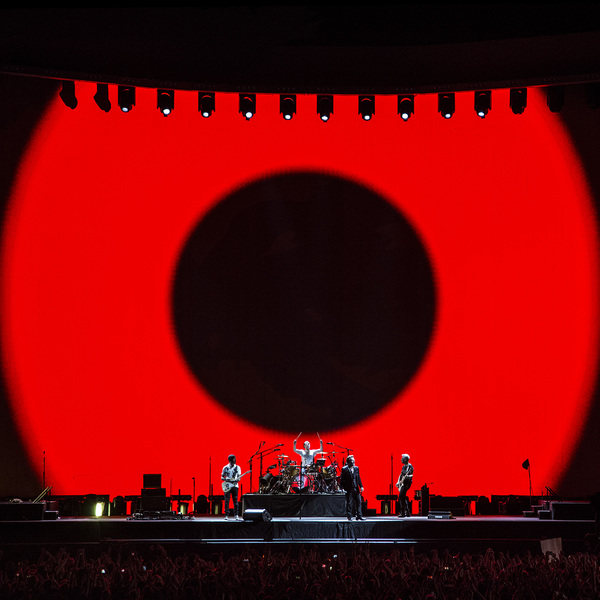 When & Where
Sunday, June 25th, 2017. Gillette Stadium, Boston (Foxboro), Massachusetts. Night 18 of #U2TheJoshuaTree2017
Set List
The opening: Sunday Bloody Sunday, New Year's Day, Bad, and Pride opened the show. A seven-song encore followed The Joshua Tree, closing the night with the return of The Little Things That Give You Away.
Social Post
@ClintonDC: 'The '87 Joshua Tree tour changed the life of a certain 16 yo. It was epic and moving to revisit it. #U2TheJoshuaTree2017 #HappyPride'
In The Press
Boston Herald
'For many members of Generation X, "The Joshua Tree" is the greatest album of all time. For everyone else, well, the U2 masterpiece is still one of greatest albums of all time (and don't give me that guff about the second side being weak — it ain't, it's amazing)…. Bono and the boys opened the night with a history lesson at a stage in center field. Without special effects or million-dollar production, with a sound not unlike the one they brought to America in the early '80s, they punched through Sunday Bloody Sunday, New Year's Day, Bad and Pride (In the Name of Love). They reached back to their skeletal sonic beginnings, and their fiery political activism. While they didn't strike hard at Trump, they rallied the sold-out stadium to remember the American ideal of a land that is a refuge for everyone. Why? Because the time is right to open arms and hearts and because that's what "The Joshua Tree" is all about.'
If You Had To Pick One Song
'Pride (In The Name Of Love) 'In the name of love/What more in the name of love'
From @dwcordova: Nothing like hearing thousands sing "in the name of love" to restore your faith in humanity. #U2TheJoshuaTree2017'
What did Bono Say?
'This is the capital of the Celts is it not? This Celt-ish people. For the men in U2 who arrived here as boys to play the Paradise Club to 150 people … This is where our love affair with America began,' Bono said before the band launched into Trip Through Your Wires. During One Tree Hill, he paid tribute to 8-year-old Martin Richard, who was killed in the bombing at the Boston Marathon four years ago and whose family as in the audience Sunday night: 'We're holding his family and the other families who lost loved ones here in April 2013. There is no end to grief, that's how we know there's no end to love.'
There were lots of shout outs throughout the Boston show, including actors Elizabeth Shue and native son Matt Damon; 'local hero' Kathy McKiernan (former director of communications for the ONE campaign); Dr. Vincent Li of the Angiogenesis Foundation, with whom The Edge works closely in developing cutting-edge cancer treatments; former U.S. Secretary of State John Kerry 'who sounded the alarm on global HIV/AIDS before anyone else'; Davis Guggenheim, who directed U2's documentary From The Sky Down; and Bob Kraft (owner of the New England Patriots, whose home field is Gillette Stadium). Bono also had a special word for Adam, a day before he is honoured in New York City by the Grammy initiative MusiCares for 'his work on addiction and working with other addicts. We couldn't be prouder of this dude.'
Top post from U2.com
From vertigojds: 'I was in Philly last week and I was here tonight. I had a closer spot in Philly, and that was a good show, but this one tonight felt like something really special. More energy and emotion from the band, and a better vibe from the crowd. Little Things was phenomenal. I'm extremely happy.'

If you were at Gillette Stadium in Boston, tell us what it was like. Add your own review and photos below.
After the show, post your own reviews and your own comments below.