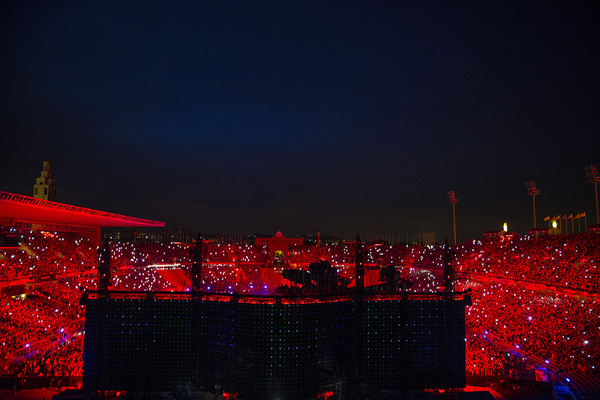 'Spanish Eyes'
In Barcelona with The Joshua Tree Tour 2017.
When & Where
Tuesday, July 18th 2017, Olympic Stadium, Barcelona, 27th show of #U2TheJoshuaTree2017
U2Fansites
Lluis from @U2Barcelona sent us this : 'U2 returned yesterday to Barcelona less than 2 years after their 4 sold out shows at The Palau Sant Jordi, a record by any band in this city. This time it was at the Olympic Stadium, a wide and open stadium that sometimes feels cold, but it wasn't yesterday, with an audience that was as hot as the day in Barcelona.
The show started with four classic songs from the pre-Joshua Tree era, Sunday Bloody Sunday, New Year's Day, Bad and Pride. Before Bad, Bono told us that he had visited the David Bowie exhibition that morning in Barcelona, and talked about him: "David Bowie was a friend of ours. We were lucky, he called us friends, really we were fans. ... We feel him very close". And then he sang a part of Bowie's song Heroes during a long and moving version of Bad.
And after that came the The Joshua Tree, full and in sequence. Having the opportunity to hear U2 play the whole album live is just a gift, a privilege. The beginning of 'Streets' put many of us in tears, Bullet the Blue Sky is a blast, Running To Stand Still sounded beautiful as always. And then the B-side, "Bienvenidos a la cara B", told Bono in Spanish. Trip Through Your Wires, One Tree Hill, Exit… Bono even snippeted a few words from Spanish Eyes.
The encore started with Miss Sarajevo, renamed by the band 'Miss Syria' for this Tour. Then a trio of stadium favourites, Beautiful Day, Elevation and Vertigo, to continue with a little of Achtung Baby, with Ultra Violet, that Bono dedicated to the women around the band, and One, with the audience singing part of it.
And to end the show, the new song The Little Things That Give You Away that Bono introduced as a song from the new album Songs of Experience, telling that it would be out before the end of the year. Hope this time he is right.'
Social Posts
@crna6pk (via IG) : 'I love that I can spend my lunch break with my favorite Irish lads. Thank you #periscope and all the #u2 fans around the world that bring the concert right into my home!'
@febottini (via twitter): 'I've never heard 'Uno, dos, tres, catorce' sound so loud like tonight!'
@olgaparera (via twitter): 'Amazing U2 honouring women with Ultraviolet. Also included Emma Watson, Lena Dunham, Malala.'
In The Press
'U2 made Barcelona soar, cry and vibrate at a concert filled with meaningful messages…'

If You Had To Pick One Song
Trip Through Your Wires - as fan site @U2Songs noted, 'Trip was one of the first songs heard from The Joshua Tree, debuting January 1986 in a television performance...'
What (else) did Bono Say?
"For our mate Reggie The Dog, who is here tonight, Reggie (Manuel) is the reason we're all here tonight. is the reason that I'm here tonight. (He) believed, when I was a boy, that I should go to Larry''s house for the very first rehearsal of the U2 group… Muchos gracias! And not only did he think I should go - he took me, to make sure that I went…'
Review On U2.com
chusplus. 'Only one night! Barcelona deserved a second night! Great performance tonight! Love the Bowie's Heroes snippet. Thanks for did it! Fab Setlist but I missed great songs such Until the end of the world. Waiting for the new album and, of course, new shows in Barcelona next tour!'
If you were at the show, tell us all about it. Add your own review and photos on our tour pages.