'It's a sound, look around…'
American Soul on second night in Philly.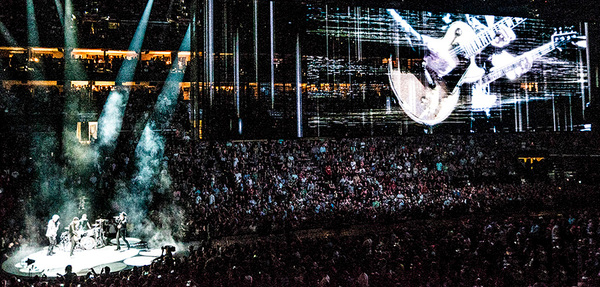 'It's not a place
This country is to me a sound
Of drum and bass
You close your eyes to look around
Look around, around, look around,
It's a sound, look around, look around, it's a sound…'
American Soul on the second night in Philadelphia.
When & Where
Thursday June 14th 2018, Wells Fargo Centre, Second and final night for U2eiTour in Philadelphia, PA.
Set List
A few tour-first snippets showed up in tonight's set - including riffs from The Killers 'I got soul, but I'm not a soldier' at the end of Elevation and a rare few lines from 'Drowning Man' echoed in 'Beautiful Day' (only the 39th time ever as a snippet according to @U2 stats fan @rossgperry on twitter!)
On The Socials
stephbondhus (via Instagram): 'Are you tough enough to be kind? Do you know your heart has its own mind? Darkness gathers around the light, so hold, hold on" U2 night Philly night 2, what a day for a daydream. What a personal story to tell tonight, bringing it back home to the beginning, to the heart. Tonight for our 5th GA front row experience, we felt most connected to the band, with Traci being personally serenaded by Bono during Until the End of the World...'
U2start.com 'We'd love if after this tour we can have a graphic novel based on the visuals of Hold Me Thrill Me Kiss Me Kill Me…'
arihalbkram (via Instagram) 'At a time in our history when everything is outrage, anger, division, and it's often easiest to see our worst traits in the news dumps and social media feeds of our families, friends and neighbors, we need every reminder that the world still has a great abundance of intelligence, light, music and love. Receiving that message from a band that has spent 40 years repeating it should feel like an exercise in futility, but these men have seen this story before. They've lived it at home, and their music has taken them around the world to see it first hand at all extremes. They should be cynical, and lord knows so many of the folks out there are, but instead, they have assembled a production that has quite a lot to say: screens can unite us as much as they divide us, love is all we have left, we can get out of our own way, there's immense strength to be found in mindfully walking back and forth across the thin line of innocence and experience, and the American Dream - the only dream we can have while awake - is owned by the whole world. So many people in my life have told me they could do what this band does, but it's a facile argument. No one else can do what this band does. Rock shows around the world are full of audiences facing the band, screaming lyrics back at the stage. U2 is the only rock band that inverts this; theirs is a bright, colorful, loud message faced at every corner of the audience, reminding us that we're still one, even if we're not the same. I've spent half my life around live music, and the rest of my days trying to find meaning and understanding in a meaningless and confusing world. Last night, I sang and laughed and screamed and cried. It was the best show I've ever seen. This is no time not to be alive.'
Experience(s) Of the Day
@paatkinson (via Twitter) 'Sitting on a hard cement floor with a bunch of new friends. Eating granola bar for dinner. Listening to David Bowie. At least an hour longer to wait. But what else would I be doing?'
@proBono33 (via Twitter) '#U2 Philly shows were amazing! First Edge handed my son his pick after Pride on night one. Night two met Edge and Adam with my other son!'
What did Bono Say?
"Almost the definition of Rock'n'Roll: Larry Mullen on the drums."
'Summer seems to have returned to Philadelphia… everybody's been so happy here... all our people have been out doing tours type stuff… and I heard Adam jogged up the Rocky steps!'
'The country that brought us Dr Luther King, The country that brought us the dream in the first place… America, thank you for letting us into your life.' (GOOYOW intro)
If you were at the show in Philly, add your own photos and reviews here
And don't forget - #WomenoftheWorldTakeOver.
Ahead of the show, why not... SING IT. RECORD IT. POST IT.
Sing the song, share it online. Join the movement.