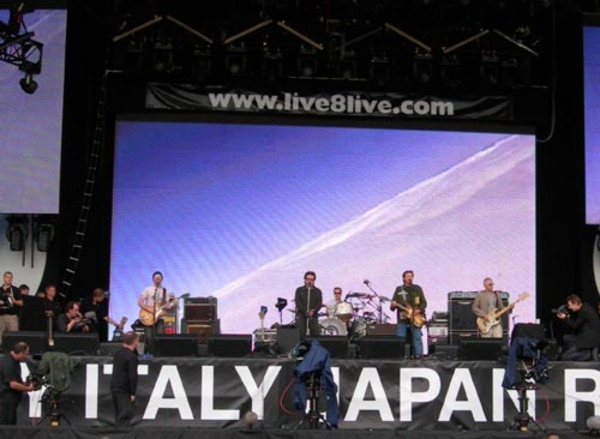 U2 are among a stellar cast of acts set to take part in Live 8 aiming to raise awareness of global poverty.
Five Live 8 concerts will take place on 2 July in London, Paris, Berlin, Rome and Philadelphia. U2 will play at the show in Hyde Park, London - and they will appear early on the bill for the simple reason that they are also taking their 'Vertigo' 05' Tour to Vienna that evening.
Also on the bill in London are Coldplay, Robbie Williams, Sting, Paul McCartney, Elton John, REM and another dozen great acts.
In Philadelphia Will Smith will host a show featuring Bon Jovi, Maroon 5, P Diddy and Stevie Wonder.
Jamiroquai, Craig David, Youssou N'Dour and others will be performing in Paris; in Berlin the line-up includes Crosby, Stills and Nash, Brian Wilson and Lauryn Hill while in Rome the acts signed up to date feature Duran Duran and Faith Hill.
Bob Geldof, who is organising Live 8 - as he did the original Live Aid in 1985 - said that the aim this time is not so much about charity as about raising awareness of Make Poverty History, a campaign to get the richest nations to cancel debt and increase aid to developing countries, and to promote fair trade.
"There is more than a chance that the boys and girls with guitars finally get to tilt the world on its axis."
For the complete line up on each of the five concerts, check the BBC's
report
on todays announcement and to get a good understanding of what the Make Poverty History campaign is all about they also have an excellent
summary
of the arguments.
Make Poverty History
is the sister campaign to the
ONE campaign
which U2 have been promoting every night on the first leg of their US tour.
More news as we get it. Meantime, put July 2nd in your diaries - if you can't get a ticket, get to a TV with your mates!