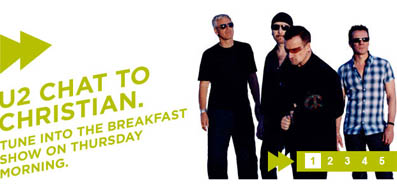 'I don't think we've got a song called Golden Delicious'.
Edge and Bono were at Absolute Radio in London this morning recording a great interview with Christian O'Connell. They even took a quiz based on their own singles - and did pretty well! So we thought we'd post it here and see how you do.
Tune in tomorrow morning
(from 6am GMT) to see how they did. (PS. pretty good actually, considering one of the answers was an album title and not a single!)
Here's the ten questions put to Edge and Bono.
If you were going hiking, what would you need to do to your feet?
What's a more popular term for the first of January ?
Name me one of the seven deadly sins ?
What is a warning you'd shout to a German toddler?
What's the best thing about 'I Can't Believe it's not Butter'?
Name me a type of apple ?
You might suffer a bout of this at the top of the Empire State Building ?
What should you make sure you give to a broken leg to help it heal ?
What's always the tastiest item on the desert trolley?
Which place would Google maps never work on sat nav?
Post your own answers below and tune in Absolute RadioThursday 26 February, from 6am on tomorrow to hear the interview... and see how they did in the quiz.