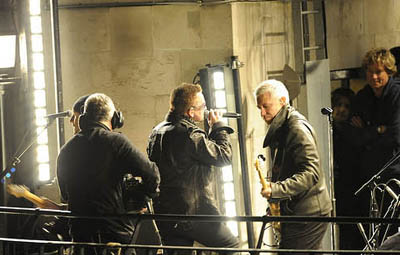 The band played a surprise set high on the seventh floor balcony of Broadcasting House in London tonight. Nobody knew about it, except the 5,000 fans who showed up and stopped the traffic. Again.
Get On Your Boots, Magnificent, Vertigo and Beautiful Day rang out across the rooftops on a beautifully clear winters night as the police closed Portland Place in Westminster to keep traffic away so that the crowds massing on the streets below could enjoy the free show.
Only the BBC would have film of the set from their own helicopter - looks great too, watch it
here.
The impromptu gig was the climax of a great day at the BBC which began with a performance in the BBC Theatre for Radio 1's Live Lounge ('Boots', Magnificent, Beautiful Day and Breathe), segued through myriad studio interviews and ended up with the live set for Chris Evans' Radio 2 show.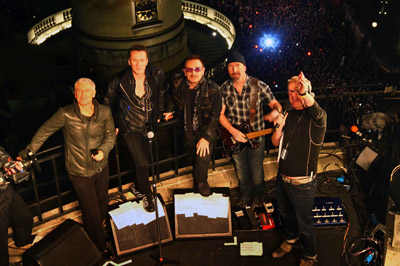 "This is a great honour." Bono announced, describing how delighted they were to be playing at the BBC. "This is the first time we've played these songs to people, so we hope we don't screw it up.'
Little chance of that as people craned out of local hotel windows, waved from surrounding balconies and even stood on the roof of the nearby church to get a better view - periodically taking sharp intakes of breath anytime they felt the singer was getting a little too close to railings.
Down on the street you could make out Edge and Bono - and Adam some of the time - while Larry remained hidden from view, except to the TV cameras broadcasting live on one of the BBC's digital channels. (We'll bring you details of rebroadcast as soon as we get them.)
Amazing job by the band's crew to set up the gear in such a miniature roof space and hang the PA off the building so that the sound was so clear in the middle of London. Great end to a great week in London.
Are you in the UK and were you there tonight ? Leave us a comment, tell us what it was like.