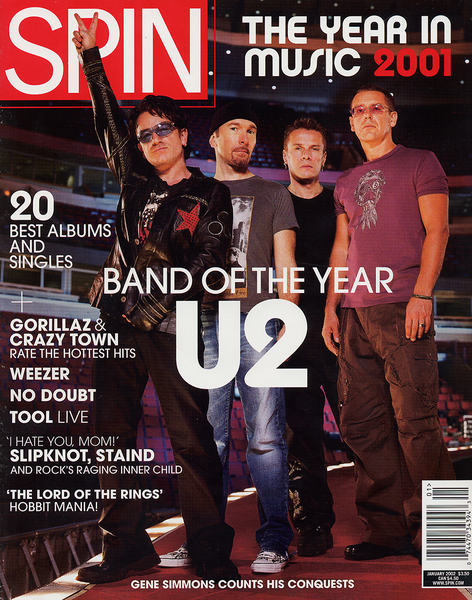 After more than two decades, U2's music and message are more relevant than ever this year writes Alan Light at Spin.com.
The Elevationair jet cruises through the October Canadian sky. Just minutes ago, U2 were onstage in Montreal's Molson Centre, driving home the second show of the third leg of their monumental Elevation tour. Now, 29,000 feet up, in the front row of the band's 44-seat private 727 on the hour-long flight to Toronto, Bono slouches, shoes off, and in a voice barely above a whisper, reflects on a year marked by triumph (the stunning success of U2's tenth album, All That You Can't Leave Behind, and the accompanying tour) and painful loss (including the death of his father in August and of one of his musical idols, Joey Ramone, who spent his last minutes listening to a U2 song).
"I think if we hadn't been on tour, if we'd been at home, this would have been a very hard year for me," says the singer, who just this morning sneaked in a meeting with Canadian Prime Minister Jean Chretien and a visit to the Montreal International Film Festival with director Wim Wenders and still made it to soundcheck in time. "I'm grateful to this band and grateful to our audience, but more so to the God that's in the music -- whatever piece of God you find."
It's been a remarkable run for Ireland's Finest. The multiplatinum All That You Can't Leave Behind, celebrated as a return to form for the band when it was released in October 2000, stayed steady on the charts for the entire year. After U2 launched the album with a series of riveting TV appearances, it spun off four hit singles: "Beautiful Day," "Elevation," "Walk On," and "Stuck in a Moment You Can't Get Out Of." U2 won three Grammys this year for "Beautiful Day," and it's safe to assume the album will pick up some more nominations in 2002. At the 2001 MTV Video Music Awards, they were given the Video Vanguard Award for lifetime achievement. In addition to his campaign for third world debt relief, Bono helped organize the all-star benefit remake of Marvin Gaye's "What's Going On," personally corralling a new generation of stars from Britney Spears to Fred Durst to Nelly in an effort to raise money for worldwide AIDS relief and the United Way's September 11th Fund.
But mostly, there was the tour. U2 played more than a hundred shows in 2001, performing in front of some two million people. After the massive spectacles of their last two global operations (1992's Zoo TV tour and 1997's Popmart extravaganza), they stripped down to a basic stage design and a set list that showcased the full scope and force of their 23 years playing together with the same lineup. Bono, 41, guitarist the Edge, 40, bassist Adam Clayton, 41, and drummer Larry Mullen Jr., 40, schooled bands half their age about what a rock show could really accomplish.
And then there was September 11. In the wake of the attacks on New York City and the Pentagon, even people who hadn't thought about the band in years began to rediscover the power of U2. In a horrible flash, the depth and substance of the band's work shone in vivid contrast to the superficial gloss and thud of the last decade of pop music. The sense of community and conscience that always defined U2 felt necessary, rather than just admirable. Hopeful songs like "Walk On" and "Peace on Earth" took on new relevance and became reassuring presences on the radio. All That You Can't Leave Behind started climbing back up the charts. The shows became, incredibly, even more emotional and uplifting. There was no longer any question about who the Band of the Year really was.
As the latest go-round of the Elevation marathon kicked off, one month after the attacks, the members of U2 spent several days -- on their plane, backstage, and in their Toronto hotel -- looking back on the tumultuous year, and on the unprecedented longevity of their career as true rock'n'roll heroes.
Spin: Does it feel different on stage now than it did a month ago?
The Edge: Every lyric takes on a whole new meaning, especially a song like "I Still Haven't Found What I'm Looking For," which we hadn't played for a good few years. And a song like "Peace on Earth" -- when we finished our record, I was surprised at how certain themes were so strong, a certain sense of mortality, of trying to cope with loss. We shied away from some of those songs when we put the tour together, but now that side of the album has new relevance.
Mullen: "Beautiful Day" takes on a whole different meaning, 'cause that was the thing on September 11 -- it was a beautiful morning. It could have been a video, the beautiful day being destroyed.
Bono: There's a lot of stuff that goes through your head, and the songs can completely change their meanings. Something like "With or Without You" becomes about your audience. It's wild how a song can change. I really learned that from listening to Sinatra, because he didn't write lyrics, but he turned them on their head. Like one of the last versions he ever sang of "My Way" -- it's a duet with Pavarotti, and it's no longer a boast, it's an apology. Same lyric.
Does the threat of terrorism feel familiar at all after growing up in Ireland?
Bono: When I was 13, I used to go through the city center in Dublin to school. I'd take a bus through town every day, to record shops. That's where I first heard the Stooges and all that stuff. There was a little coffee shop, and one day I stopped by like I often did, and then I left, and an hour and a half later the coffee shop was blown to bits. In that sense, it's not as much of a shock for us, but it has clearly altered the mental and emotional landscape of America. There's a new fear in the room, and America has always been about faith -- faith in yourself, faith in an idea of God -- to a point where you might walk all over somebody sometimes -- and it's just different in Ireland. That's not how we think.
The Edge: I fully expect people to get back to normal quick. That was always what was amazing to me about Belfast, because whatever threat we were experiencing in Dublin, London, or Birmingham with the IRA bombings in the past, to go up to Belfast or Derry, you really were in the middle of it there. What was amazing was how normal life was. People just got on with it, even as they were stepping around the paratroopers with their shopping.
Complete story at www.spin.com