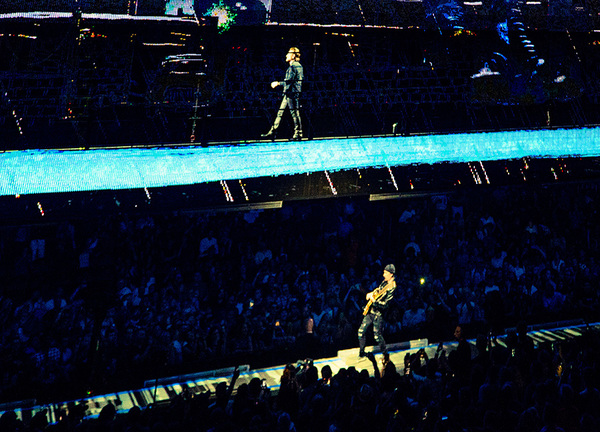 Final night at Madison Square Garden in New York City.
'There is a light you can't always see
If there is a world we can't always be
If there is a dark that we shouldn't doubt
And there is a light, don't let it go out…'

'(13) There is a light' bringing to a close show 28 of 29 on this North American leg of the #U2eiTour.
When & Where
Sunday July 1st 2018, record-breaking 30th show for the band at Madison Square Garden, New York City.
Set List
All Because Of You stays in the set from Newark, shoutouts throughout the night to many special guests in the audience, including Patti, Bruce, Salman, Michael and 150 UN Ambassadors… all invited on a trip down 'Cedarwood Road'. Here's the set list.
Fan Reviews
Lisa from NYC (@ladymissgnyc on twitter)
'Last night, Bono announced that they've played 30 gigs at The Garden, which is quite astounding. Since it's my "local" so to speak, I've been to 22 of them. For a relatively large arena, it manages to retain such an intimate quality, and the atmosphere is always magical. It has never been easy to get tickets for U2 shows there – whether it was mailing away a request to Propaganda and hoping for the best, queuing overnight at a Ticketmaster outlet, or using the app – you always knew you just had to find a way to go – how could you live in the neighborhood and not be in the building?! My first U2 show was in 1985 but I didn't see them at The Garden until The Joshua Tree Tour on Sept. 28, 1987. I remember being in one of the last rows of folding chairs, back in the day when we still had seats on the floor, and managing to work my way to the front by the stage. Beyond the history of the building, going to The Garden is an experience unlike any other. They've always had a savvy NYC staff and crowd that always add just a little something extra. When I say that it's a special venue – I should mention that up until the Vertigo Tour, they used to serve free champagne with strawberries to everyone near the stage just before U2 came out!
All day yesterday, I had a sinking feeling that there was a chance this just might be my last U2 show and was terribly emotional. I tried to block out my exhaustion, the heat, and trying to get the perfect photo and just focus on every detail of the performance so I could remember this night forever. As Bono stood on the catwalk while the screen was raised up at the end of Love Is All We Have Left, I could just feel the tears surging. Until The End of the World has always been a favorite and the entire crowd was dancing – the cameras and phones just started to disappear as we all got lost in the moment. Bono was chattier than he'd been at some of the shows this week and I thought his MacPhisto speech was well-received by the NYC audience. Elevation was never a favorite until this tour but the dance mix intro and video screen effects took it to the next level for me. Love is Bigger Than Anything in Its Way is a true U2-anthem and Bono managed to get the entire arena to sway their arms in unison. For me, the most powerful song of the night was 13. The lyrics resonate with me more than any other song on the album and I could see Bono's eyes tearing up as he walked down the catwalk towards the e-stage and I just lost it. I left the arena crying and singing 40 with the crowd as I walked to the subway. I certainly hope that wasn't my last U2 show but if it was, I am just so thankful to have been on this 40-year musical journey.'
Sil & Ken from L.A.
Sil : 'Last of 3 AMAZING nights at MSG, surrounded by great friends and blessed with music from the best band in the world. MSG never disappoints and when I figured that my 70th U2 show was going to happen there, I knew I had to make it a reality. That also marked my 11th and final show on this beautiful U2eiTour. Knowing that some of my favorite performers such as Bruce Springsteen, Michael Stipe and Patti Smith were among the audience, just made everything even more special. I couldn't believe my eyes when I saw Bruce just as mesmerized as us U2 fans during Pride, while Edge was playing his guitar right in front of him. I will miss this tour so much and I'm so thankful to have had the opportunity of seeing a song from my favorite album (POP) being played again after waiting for 20 long years, since I saw it last in Brazil. Acrobat is for sure the hight light of every show. I hope everyone going to the European concerts can have just as much fun as I did during this first leg of the tour! God bless this band!'
Ken : 'The July 1st U2 show at Madison Square Garden was a milestone show for the band and for me personally. Bono told the crowd this was their 30th time playing MSG, more than any other venue. For me, it was my 100th U2 show since 1985. It was a special week for me visiting New York. I was able to see U2 on my birthday, followed by Bruce Springsteen's Broadway show. This special week wrapped up with U2 and seeing Bruce in the audience. Bono acknowledged my sign thanking the band for my 100 shows and it was a thrill to have him thank me from the stage. I'm thankful to still have this band in my life and hope to still have many more years of music and shows as thrilling as this one was.'
In The Press
Markos Papadatos for digitaljournal.com
'On July 1, 2018, Rock and Roll Hall of Famers U2 headlined the "World's Most Famous Arena" Madison Square Garden in New York, for a good turnout. The acclaimed rock band kicked off their set with their newer song "Love Is All We Have Left," and it was followed by the rock-dance tune "The Blackout," and yet another new song "Lights of Home," which had a neat arrangement to it. All of these aforementioned songs are found on their latest studio offering, Songs of Experience, which came out in December. U2 interacted well with their fans throughout the evening, thus making them feel at home. Their popular hit "Beautiful Day" and the haunting deep cut "The Ocean," which had a stirring vibe to it, were some of the highlights from the first part of their show. After an intermission, U2 returned with the high-octane and rocking "Elevation," and they immediately broke into "Vertigo" and "Desire." Another highlight was when U2 performed "You're The Best Thing About Me" in an acoustic fashion, where they were able to touch their listeners on an emotional level. These lyrics were pure poetry, and Bono and The Edge soared on a stripped down version "Staring at the Sun," which was yet another musical masterpiece. "Pride (In the Name of Love)" became an anthem yesterday night at Madison Square Garden, and they concluded with "American Soul" and their Grammy-winning "City of Blinding Lights." For their encore, U2 returned for an empowering version of "One," as well as "Love Is Bigger Than Anything in Its Way," and they closed on a fitting note by covering the Talking Heads classic "This Must Be the Place (Naive Melody)," where they left their dedicated rock fans wanting to hear more.
The Verdict : Overall, U2's "Experience + Innocence" Tour stop at Madison Square Garden was a true work of musical art. The energy in the iconic venue was palpable, and U2 as a whole put on a truly highly energized set. Front-man Bono was in a league of his own, and The Edge on lead guitar, Adam Clayton on bass, and Larry Mullen Jr. on drums were equally superb. Their live show at Madison Square Garden garnered an A rating.'
On The Socials
karindauch@U2 (via Instagram). 'U2 you rocked your 30th performance at MSG. Probably the best concert I've ever been too. Thank you for not being afraid of showing what people would like to turn a blind eye to. "Love is bigger than anything in its way" #songsofexperience #u2eitour2018 #u2 #womenoftheworldtakeover'
alefri80 (via Instagram). 'U2 are simply magic! Amazing voices and instruments, great performance and commitment to the cause of those suffering inequalities. New York thank you for another dream that came true.'
@carynrose (via Twitter). 'I remain flabbergasted at the presence of "Acrobat" and the skill and fury and emotional mindspace they bring to a song they never played. Time just stands STILL, no matter where you are in the arena'.
Experience(s) Of the Day
aj_zimm (via Instagram) 'I'll never get over the fact that Adam personally handed me his pick from the stage.'
@irishmissionun (via Twitter). ''Massive thank you @U2 for the warm welcome to #UNatU2 A special night recognising the centrality of @UN to a peaceful world. Ireland knows the importance of building and sustaining peace & it was wonderful to share this message with our #UN friends'
What Did Bono Say?
'Somebody very special here tonight we would like to dedicate the whole show to.. our last night at the Garden…to the man who, not only designed every U2 album cover, but the man who gave us our name, U2, (we did turn down 'The Flying Tigers', I just want to say!)… 'The Hype' was my idea.. somebody had used that… Steve Averill is here - there he is right there… thank you sir'.
'Tonight we have 150 ambassadors representing the United Nations here… we want to thank you for keeping the world more peaceful… You do fuck up the traffic here sometimes but that's okay… Seriously though we have got to diversify, we have got to open up. That's why if the United Nations did not exist, we would have to invent it because it is the one thing that puts peace on our table.'
(Shona Murray has written more on this for the Independent.ie.
'U2 officially raised the curtain on Ireland's bid to secure one of two non-permanent seats at the United Nation's Security Council, the organisation's most powerful body. At a sold-out concert at New York's Madison Square Garden last night, Taoiseach Leo Varadkar, Tánaiste Simon Coveney and senior Irish officials including Ireland's ambassador to the UN, Geraldine Byrne Nason, joined every ambassador to the UN to hear why they should vote for Ireland for a seat for a two-year term starting in 2021….'
If you were at the final show in New York, add your own reviews and photos here