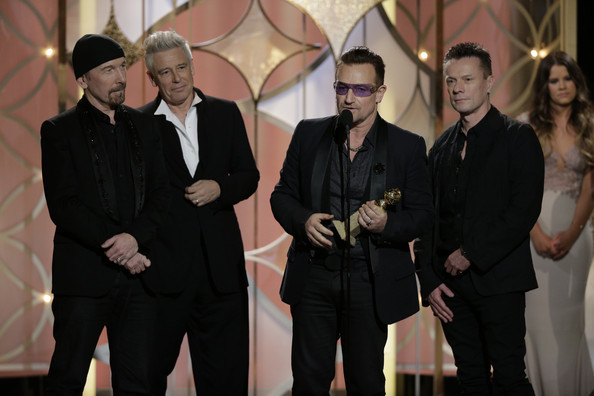 At the 71st Golden Globe Awards in Los Angeles tonight, the band took home the award for 'Best Original Song' for 'Ordinary Love'.
All four band members accepted the award, for the song they wrote for
Mandela:Long Walk to Freedom
.
"This really is personal for us," said Bono. "This man turned our life upside down, right-side up, a man who refused to hate, not because he didn't have rage or anger or these things, but that he thought love would do a better job.
"We wrote a love song because it kind of is what is extraordinary about the film — it is kind of a dysfunctional love story. That's why you should see this film. You know about the global statesman, you don't know about the man, that's why you should see this film. We're good at the dysfunctional love stories."
Also nominated for Best Original Song were Coldplay's 'Atlas' for
The Hunger Games
, Kristen Anderson-Lopez and Robert Lopez's 'Let It Go' from
Frozen
, Ed Rush, George Cromarty, T Bone Burnett, Justin Timberlake, Joel Coen and Ethan Coen's 'Please Mr. Kennedy' from
Inside Llewyn Davis
and Taylor Swift and Jack Antonoff's 'Sweeter Than Fiction' from
One Chance
.
Here's the band backstage after the show, with
Bono talking about the song - and the honour of winning.
More reaction and photos coming.