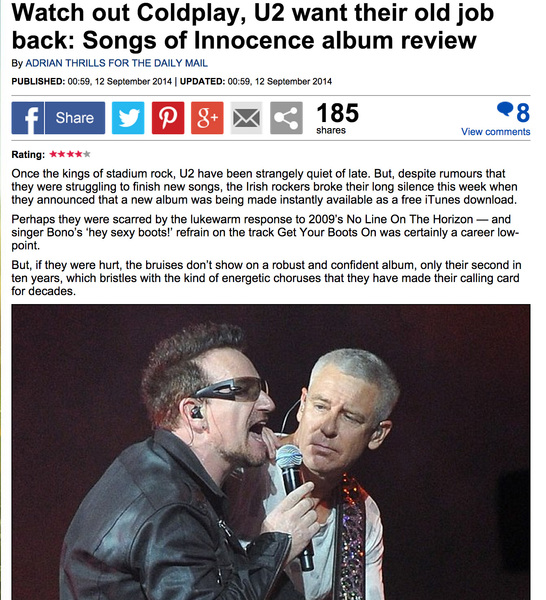 'Watch out Coldplay, U2 want their old job back. Adrian Thrills for the Daily Mail on Songs Of Innocence.
(12 September 2014 Rating 4/5)
'Once the kings of stadium rock, U2 have been strangely quiet of late. But, despite rumours that they were struggling to finish new songs, the Irish rockers broke their long silence this week when they announced that a new album was being made instantly available as a free iTunes download.
Perhaps they were scarred by the lukewarm response to 2009's No Line On The Horizon — and singer Bono's 'hey sexy boots!' refrain on the track Get Your Boots On was certainly a career low-point.
But, if they were hurt, the bruises don't show on a robust and confident album, only their second in ten years, which bristles with the kind of energetic choruses that they have made their calling card for decades.
Although the band's underlying concerns are perhaps not as squeaky-clean as the title suggests, Songs Of Innocence features plenty of warm echoes of U2's rich musical history. Opening track The Miracle (Of Joey Ramone) reflects nostalgically on their punk roots, while This Is Where You Can Reach Me Now is dedicated to the late Joe Strummer, of The Clash.
There are personal moments, too, with Bono paying tribute to his late mother on Iris (Hold Me Close), before painting a darker picture of his childhood on Raised By Wolves and Cedarwood Road, the latter named after his old Dublin address — 'a war zone in my teens'. If the lyrics — the work of Bono and guitarist The Edge — are often gloomy, the music is upbeat.
Big guitar numbers such as Every Breaking Wave sound ready-made for next year's inevitable world tour. Bono's soaring voice is still capable of hitting those high notes and The Edge's guitar work is still strikingly melodic and inventive.
On an album short on experimentation, there are two notable departures. As befits its Joe Strummer dedication, This Is Where You Can Reach Me Now nods towards the rock-dub style perfected by The Clash, while the acoustic ballad Song For Someone, produced by OneRepublic's Ryan Tedder, is a shimmering, modern pop track.
In playing to their strengths as unashamedly as they do here, U2 can still compete with pretenders such as Coldplay and The Killers.
It seems that the biggest band in the world want their old job back.'