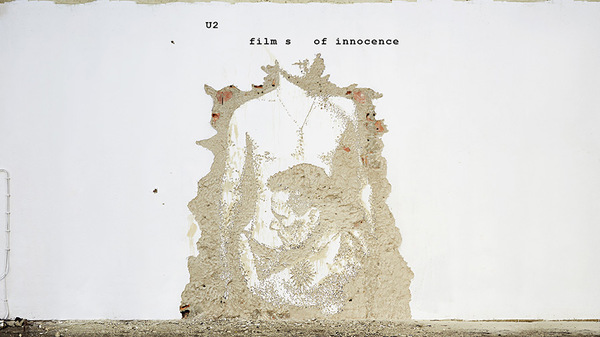 FILMS OF INNOCENCE 11 FILMS PREMIERE ACROSS 11 PLATFORMS FOR 24 HOURS
FROM 4pm GMT / 11 am ET
Bonus Film, exclusive to U2.com Subscribers.
As tickets go on general sale for U2's
iNNOCENCE + eXPERIENCE Tour 2015
, the band has unveiled a bold new artistic initiative in the form of Films of Innocence: a visionary collection of 11 films by the world's most vital urban visual artists, each inspired by one of the 11 tracks on U2's Songs of Innocence album.
At 4pm GMT / 11am ET, the U2-pioneered 'Films of Innocence' project will celebrate the visceral power of urban art with 24-hour exclusive premieres across the following 11 platforms.
Complex – "Every Breaking Wave" by Robin Rhode
Dazed Digital – "Cedarwood Road" by Maser
Dezeen - "Iris (Hold Me Close)" by Chloe Early
Juxtapoz – "The Troubles" by Todd James
The Nerdist - "California (There Is No End To Love)" – D*Face
Nowness – "Raised by Wolves" by Vhils
NPR - "Song For Someone" by Mode 2
Paper Magazine - "This Is Where You Can Reach Me Now" by DALeast
Pitchfork – "Volcano" by Ganzeer
Rolling Stone - "Sleep Like A Baby Tonight" by ROA
Stereogum - "The Miracle (Of Joey Ramone)" by Oliver Jeffers.
Films of Innocence Trailer
Following the 24-hour premieres, the Films Of Innocence collection will be available for purchase via
iTunes
and Amazon.
U2.com subscribers can watch an exclusive 12th film, Conor Harrington's visual interpretation of the Songs Of Innocence bonus track "Crystal Ballroom."
With the political murals of Northern Ireland as a reference point, U2 chose the artists and gave them complete creative freedom to create personal responses to the music of their new album. The result is an exhilarating display of diversity in approach, style and commentary.
Powerful and cognizant, Films of Innocence takes these artists and their works from the streets to the screen, as they scale the globe, play with time, and weave between heightened reality and animated dreamscapes. The result is an essential visual counterpoint to the album.