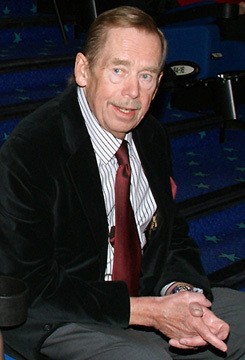 Edge has added his support to leading Czech and international artists in backing moves to honour the great playwright and politician Vaclav Havel.
Czech writers, film makers and actors have ignited a popular campaign - supported by international figures like Joan Baez and Peter Gabriel - calling for the airport in Prague to be renamed as 'Vaclav Havel Airport'.
More than 80,000 people have signed an online petition supporting the idea and now the government has indicated it favours the move as a way of honouring the memory of Havel and his unique role in their history.
The playwright and anti-communist dissident, who died last December, was jailed by the country's totalitarian rulers before the 1989 bloodless 'Velvet Revolution'. He went on to be elected the last president of Czechoslovakia and the first president of the Czech Republic.
With support from 25 countries, other signatories include opera director Ladislav Stros, singer Peter Yarrow, Brent Hansen of MTV Europe, playwrights Christopher Hampton and Tom Stoppard, and former Pythons Terry Gilliam, Michael Palin and Terry Jones.
If you'd like to add your voice to the campaign, sign up
here
.