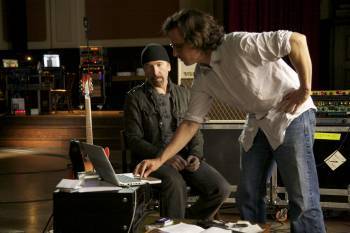 Tonight, TV viewers in the UK and Ireland are first to see From The Sky Down, Davis Guggenheim's documentary about the making of Achtung Baby.
Twenty years on the film 'traces the album's genesis using animation and previously unseen footage from Berlin and Dublin alongside interviews with the band as they reflect on what was a key chapter in their career.
'In the terrain of rock bands - implosion or explosion is seemingly inevitable. ' says Guggenheim. 'U2 has defied the gravitational pull towards destruction... this band has endured and thrived. From The Sky Down asks the question why.'
BBC1 broadcast details/ timings.
Broadcasts are also coming up in the next few weeks through: Showtime in the US; Superchannel in Canada; ABC in Australia; Multishow in Brazil; Wow Wow in Japan; Sky in Italy and NTR in Holland. (Check local listings for confirmed dates and times.)
If you're watching in the UK and Ireland tonight and planning to tweet about the documentary, use the hashtag
#theskydown.
Once you've seen it - add your own review below.