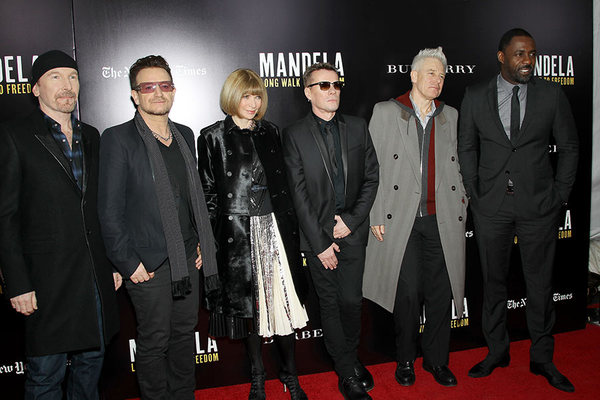 'It's an incredible thing that we were asked to write
this song
for this movie,' explained Edge at Monday's screening. 'We've been working for Madiba since we were teenagers and so it's kind of coming full circle now.'
Hosted by producer Harvey Weinstein and Vogue editor Anna Wintour, the band joined actors Idris Elba and Naomie Harris for the screening of
'Mandela: Long Walk To Freedom'
at The Zeigfield Theatre. They were welcomed to the stage by Zenani Mandela.
'Getting the call to do this was sort of overwhelming, and an honour.' said Bono. 'But, you know, this man, Zenani's dad—when you think about it like that, her dad—really turned our life upside down. Or right-side up.'
Monday night was also a bit special for a
select posse of U2.com subscribers
- they got guest passes for the night and some of them even got to meet the band.
Ordinary Love is released on 10-inch vinyl to mark
Record Store Day
this Friday, November 29th. (UK and Ireland release, Monday December 2nd -
participating stores here
).