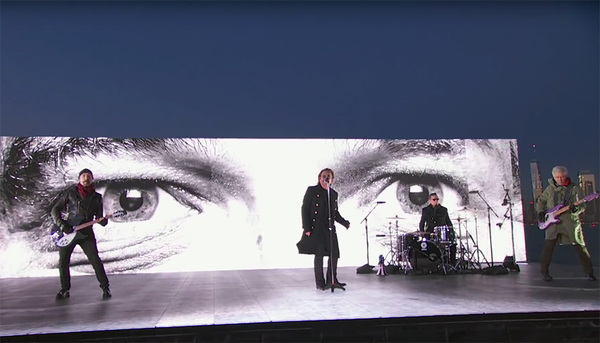 'Blessed are the Shithole Countries, for they gave us the American dream!' Bono shouted through a star-spangled loudhailer from a barge on the Hudson River in the footprint of the Statue of Liberty, where U2 performed 'Get Out Of Your Own Way' during the 60th Grammy Awards in New York City tonight.
'Blessed are the arrogant for theirs is the kingdom of their own company! Blessed are the bullies because one day they will have to stand up to themselves!' Bono shouted into the blustery winter's night at the end of the song, bathed in the torchlight of Lady Liberty.
'Give me your tired, your poor/ Your huddled masses yearning to breathe free…'
It was a powerful, consciousness-raising moment in a Grammy night that shone the spotlight on social issues from racism and gun violence, to immigration and sexual violence against women.
Earlier in the evening, U2 joined their 'Get Out Of Your Own Way' collaborator Kendrick Lamar on stage to open the Grammy's in New York's Madison Square Garden with an epic, politically-charged performance of 'XXX' from Lamar's album 'DAMN'.
With dozens of dancers clad in paramilitary garb and balaclavas flanking Lamar and pyrotechnics exploding overhead, Bono and Edge emerged from the shadows, walking somberly toward the front of the stage as they performed several lines from "XXX" (and "American Soul").
'It's not a place/This country is to me a sound /Of drum and bass … It's not a place /This country is to me a thought /That offers grace /For every welcome that is sought '
'It looks like he's singin' and dancin', but this brother is taking enormous chances. 'Rumble, young man! RUMBLE!",' Dave Chappelle said as the ensemble closed 'XXX' and Lamar, who went on to win 'Best Rap Performance' minutes later, launched into his 'DNA.'
U2 have won 22 Grammy awards since their first two (Album Of The Year and Best Rock Performance By A Duo Or Group With Vocal) in 1987 for 'The Joshua Tree'. The band's first Grammys performance was at the 43rd annual music awards in 2001. They are the only group to have won an Album of the Year Award Grammy twice—for 'The Joshua Tree' and in 2005 'How To Dismantle An Atomic Bomb'.