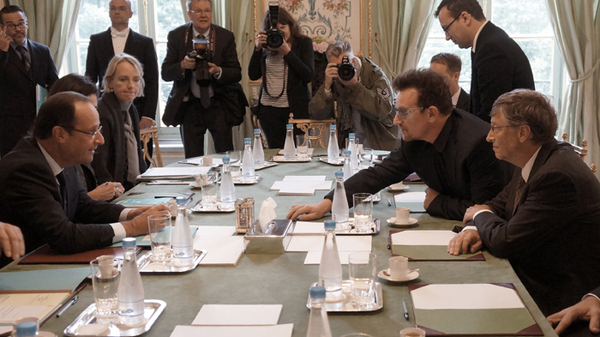 Bono has been visiting European leaders with Bill Gates this week,
on the campaign trail with ONE
.
'Sometimes great things happen when nobody's looking.' he said this afternoon, after meeting with the UK's Deputy Prime Minister Nick Clegg and Business Minister Jo Swinson. 'That's what happened today. Nick Clegg and Jo Swinson have thrown Britain's weight behind strong EU transparency laws, at least matching the new US legislation. This legislation says – let the daylight in. Transparency is the best vaccine against corruption.'
Campaigners have been lobbying for an EU-wide law requiring oil, gas and mining companies to publish what they pay to governments around the world. ONE is part of a coalition of 650 civil society organisations calling for greater transparency in the sector. Over 160,000 European ONE members signed the petition calling on European leaders to deliver strong laws - following a successful campaign by ONE members in the US to pass a similar law.
Nick Clegg, the
UK's Deputy Prime Minister said
, 'It is time to end the injustice where ordinary people are silent witnesses, left to suffer without basic services, as the profits from their countries' assets are hidden and plundered by corrupt regimes.'
As Bill Gates
explains on his blog
, 'I've been travelling in Europe this week with Bono. The two of us are meeting with government leaders to encourage them to renew their commitments to fund development assistance programmes that help the world's poorest.'
Many European leaders have expressed support including
European Commission President Barroso
,
European Parliament President Schulz
and, pictured above, French leader
President Hollande
.