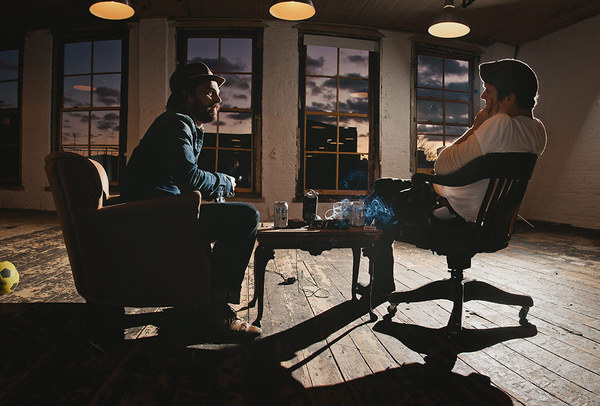 The song
Ordinary Love
, written for 'Mandela: Long Walk To Freedom', is accompanied by a striking lyric video in which the handwritten words to the song fade and degrade and vanish. This unusual approach was created by two visual artists, Irish illustrator Oliver Jeffers and American animator and collagist Mac Premo. The pair, who work out of an artistic hub in Brooklyn, have been friends since meeting in a summer camp in upstate New York as teenagers. Just now, they're skyping Stuart Bailie for U2.com from Oliver's studio, and remembering how they came to approach Ordinary Love. At the centre of the song is the story of Nelson Mandela and his 27 years imprisonment in South Africa.
U2.com: Can you explain the idea behind the words disappearing?Oliver:
It's about the difficulty of permanent love. The correspondence between Nelson Mandela and Winnie (his then wife) worked so well within confinement but when he was released, the real world took its toll and made it go away. So it was about the lack of anything permanent, really. It's disheartening, but it's also heartening to a degree, where it inspires you to hurry up a little bit.
Mac:
The idea of the writing fading is that when things go away, it's often not a clean break. They fade away in different forms and different manners, different ways. It's not a clean process. You don't know how its exactly happening but you can see that it is. I think Oliver and I both responded to the song in that it didn't look to sugarcoat a real moment for a very epic man. The opportunity to portray that human element of someone so grand is pretty humbling. We wanted to do the best work to represent that.
U2.Com: How did the commission come about?Oliver:
I'd met Bono through a mutual connection a couple of times and been talking about my work. Then when I was asked to do the typography for a TED film, I saw that Bono's name was down as one of the TED speakers (
'The Good News on Poverty'
). I thought, 'We're gonna be there, he's gonna be there, I'll send him send him one of my art books.' So I did.
He got in touch with the idea of having me doing the visuals for his talk - which ended up not working - but the conversation was sufficiently interesting that he asked me to be part of this workshop he was giving at TED. Mac and I both went to it, fell in love with the
ONE Foundation
and as a result were invited to make a film for ONE, which we asked Bono to do the voiceover for.
After seeing it, Bono asked if I was available to do a lyric video for 'Ordinary Love' (and) that grew into a conversation through Studio AKA (the London animation studio that worked on the adaption of Oliver's 'Lost and Found' book). The original intention had been to animate words that just disappear but when Mac and I started working again on this we thought rather than have CGI aspects of making the writing go away that there was a way to let it all happen in camera.
Mac:
This quickly became the kind of thing that was less about computer graphics and more about an artistic exploration in camera, a handmade thing. And that's really a lot of the work we've done. With a lot of the things that get done with Oliver and I, there's a lot of discovery in the process. The process informs the product....'
Read the whole of this interview on our
Subscription Site.