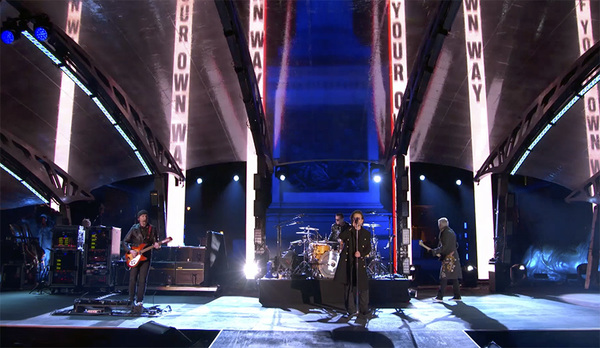 In London for the MTVEMA's
Saturday it was Trafalgar Square in London where the band performed nine songs for seven thousand lucky fans... and the cameras of MTV. Trafalgar Square looked fantastic,' reported Neil McCormick in the Daily Telegraph.
'With the lions lit up in red and blue, Nelson shining in white light and the gushing fountains brilliantly spotlit. Striking vertical LED pillars created a futuristic backdrop to the venerable monuments, a Blade Runnerish melding of the old and new providing a dazzling sci-fi setting for the concert.'
This was what Get Out Of Your Own Way looked like.
Here's Saturday's set list: Sunday Bloody Sunday, Pride (In The Name of Love), Get Out Of Your Own Way, You're The Best Thing About Me, Beautiful Day, Elevation, Vertigo, One, Get Out Of Your Own Way, One.
Sunday it was Wembley Arena and the MTV Europe Music Awards where host Jared Leto presented the band with the 'Global Icon' Award and described them as "a way of life."
"Their songs are prayers. Their concerts [are] a church. They challenge us. They inspire us. They remind us that every moment in our lives in an opportunity to rise above and be part of the possibilities of life rather than its problems."
As Billboard reported, Adam dedicated the award to Island Records founder Chris Blackwell. and Bono reprised Stormzy's 'Blinded By Your Grace Pt. 2'