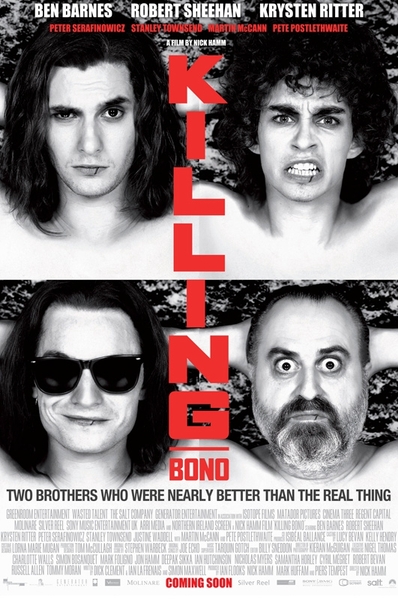 'Two brothers attempt to become global rock stars but can only look on as old school friends U2 become the biggest band in the world.'
That's the storyline of Killing Bono, a music-based comedy coming in April based on the memoirs of Neil McCormick, an old school friend of the band.
Update
: NME have posted an exclusive clip from the movie featuring
'the band's first ever gig'.
These days Neil is the rock critic of The Daily Telegraph newspaper in the UK, but as a teenager he and his brother Ivan were at school in Dublin with Adam, Larry, Edge and Bono.
With a screenplay by Dick Clement and Ian LaFrenais, the film records Neil and Ivan's plans for global rock superstardom after seeing the career of their school mates take off. And while history records that their ambition was sadly unfulfilled... it does make a funny story.
'It's the story of my life as a failed rock star,' explains Neil. 'Most people deemed worthy of the biopic treatment have actually done something memorable... all I did was royally screw things up for myself, while my school friends in U2 went on to achieve everything I ever wanted.'
Directed by BAFTA winning Nick Hamm, the film has a pretty fine cast including Ben Barnes (playing Neil), Robert Sheehan (playing Ivan), Peter Serafinowicz, Pete Postlethwaite and Martin McCann (playing Bono).
Although U2 are not involved in anyway with the film, some of the people behind the production are good friends with the band: apart from Neil, Ian Flooks, one of the producers, was U2's agent from 1980-1997. As it's not a documentary or factual drama, there's more than a little poetic license in the screenplay but as one man's self-deprecating account of the struggle for rock'n'roll success in the 1980's music scene, Killing Bono offers another perspective on a mythical period in the earliest days of U2. No doubt plenty of fans will be checking it out in April.
You can find the first official trailer of Killing Bono
here
.