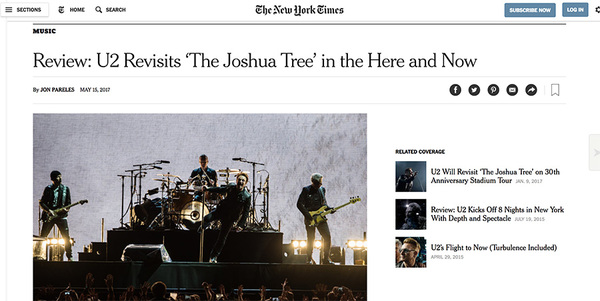 Two shows in and #U2TheJoshuaTree2017 is going down well with the critics. Here's a few early highlights - follow the links to read reviews in full.
'U2 have spent their entire career proving doubters wrong,' writes Andy Greene in Rolling Stone, 'Fiercely resisting the easy lure of nostalgia and rising above any move that hints at cynicism. Time and time again throughout the new tour's U.S. opener at Seattle's CenturyLink Field, U2 proved how a 30-year-old album can speak to the issues of today – whether they be immigration, U.S. foreign policy or the dwindling power of labor unions – while reminding the audience that they are a live act simply without peer. The band has always done their best work under trying circumstances, and in the words of Bono back around the time they came back with "Beautiful Day," it really felt like they were reapplying for the job of the best band in the world by showing how they earned the title in the first place. More here...
'Thirty years on,' writes Neil McCormick in The Telegraph in the UK, 'U2 perform The Joshua Tree with the same belief that rock and roll can change the world.'
'As the show drew to a close during a devastating version of Miss Sarajevo, a stadium full of Americans could be seen cheering the image of a young female Muslim Syrian refugee while Bono recited the Statue of Liberty quote from Emma Lazarus's The New Colossus, "Give me your tired, your poor, your huddled masses yearning to be free."
'It was moving stuff. U2's original Joshua Tree tour back in the Eighties set out their claim to be the greatest rock band of their era. Thirty years on, still absurdly persisting in their belief that rock and roll can change the world, they may have even, er, trumped themselves.' More here...
Barry Egan in the Irish Independent called the night, 'An unambiguously powerful concert by a band back to their visceral and epic best'.
'They kick off this set with a rollicking Where The Streets Have No Name — with Anton Corbijn's new pictures of 'The Joshua Tree' area and the desert behind U2 on giant screens — before going into I Still Haven't Found What I'm Looking For and then, With Or Without You.
During the seismic spirituality of With Or Without — with a reddish sunset-covered mountains lighting up the massive stage — Bono, as he often is, was transformed for those moments. He sang with a passion that went beyond performing. Indeed U2 performed with a passion that went beyond, well beyond, mere performance.
With a huge silhouette of a single Joshua Tree shooting up into the sky behind them, this was something special on what Bono called a concrete temple.' More here...
'One reason to revive "The Joshua Tree",' reported Jon Pareles in The New York Times, 'Is that its concerns — personal, societal, mystical — haven't disappeared.'
"The Joshua Tree" was performed against (a) video backdrop, often with starkly beautiful desert scenes by Anton Corbijn, the photographer for the "Joshua Tree" album cover and many other U2 graphics. The band was dwarfed, but the music wasn't. Larry Mullen Jr. on drums, Adam Clayton on bass and the Edge on guitar tore into the urgent rhythmic flux of "Where the Streets Have No Name." Against the craggy postpunk groove of "Bullet the Blue Sky," both Bono's falsetto and the Edge's guitar leads were keening sirens.
"The Joshua Tree" was a high-water mark of an era when leading rockers were eager to be role models and do-gooders, putting on benefit concerts like Live Aid and Amnesty International's Conspiracy of Hope tour, which both included U2. A backlash would soon dismiss similar efforts as naïve or pretentious, but U2 has persisted. It doesn't write scolding protests; it strives for empathy, hope and, ultimately, exaltation.
One reason to revive "The Joshua Tree" is that its concerns — personal, societal, mystical — haven't disappeared. Some of its songs hold eerie resonances with present American problems. "Running to Stand Still" is a portrait of an addict, while "Red Hill Mining Town" contemplates vanishing mining jobs. For "Mothers of the Disappeared," an elegy for political prisoners, Eddie Vedder of Pearl Jam sang a verse, and U2 was also joined by Ben Harper and the concert's openers, Mumford & Sons. More here...