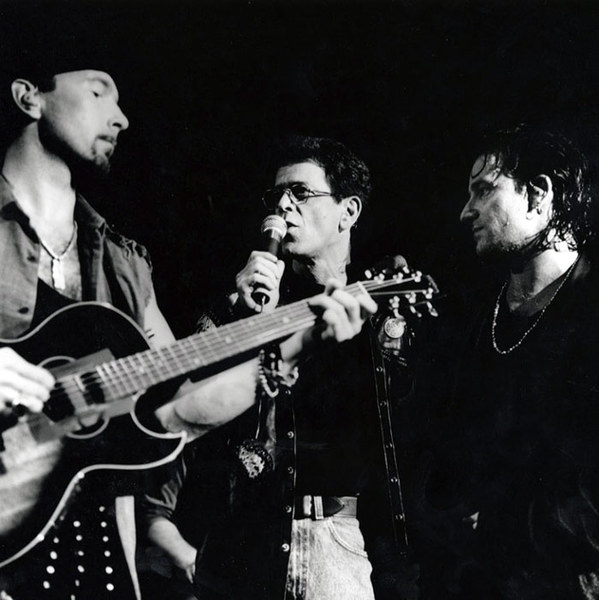 U2 have paid tribute to the great Lou Reed, who died, aged 71, earlier this week. The singer, guitarist and co-founder of The Velvet Underground was a hugely significant figure in the development of rock music, not least for U2 who've often talked of how they were influenced by his songwriting.
In 'U2 By U2' Larry recalled how the band used to cover Sweet Jane at some of their first gigs and Bono has described the influence on him, as a young teenager, of the Velvet's 1972 album Transformer. Lou Reed himself first became aware of that influence through Live Aid in 1985, when the band's extended version of Bad included snatches of Satellite of Love and Walk on the Wild Side.
It was not long after, in 1986, that the band got to know Lou Reed when they performed together on Amnesty International's Conspiracy of Hope tour, travelling with artists like Peter Gabriel, The Neville Brothers and Joan Baez. Bono remembers how Lou would 'talk guitar sounds with Edge, motorcycle sounds with Larry and James Joyce with me.'
It was a friendship that was to endure. A few years later, on the ZOO TV Tour in 1992, Lou joined U2 on stage at Giants Stadium to duet on Satellite of Love (see above).
The song went on to find a unique place on the tour, Bono duetting each night with a pre-recorded image of Lou Reed on video.
When One was first released in 1992, it was coupled with Satellite Of Love and a year later, when The Velvet Undergound reformed, they joined the band on ZOO TV for several dates. As Bono recalls, 'U2 were beyond ourselves with delight when The Velvet Underground reformed to play some select dates in the early 90's, including some with us. Pale Blue Eyes is perfection in pop.'
'Transformation is at the heart of Lou Reed's best work,' he adds. 'People's ability or inability to transform. We know that turning pain into beauty is the mark of a great artist and we understand defiance is at the heart of romance, but we're mystified by how Lou Reed's songs are so airborne. Helium filled metal balloons, never weighed down by their subject matter, humour always around the corner from vitriol. Magic and Loss indeed.'