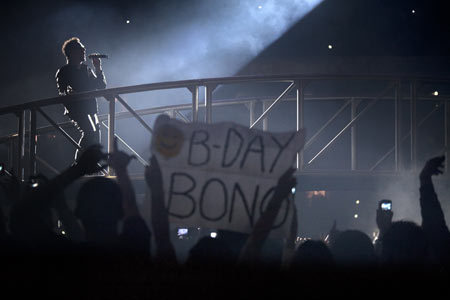 U2360° took off again in Mexico City tonight and that wasn't the only reason to celebrate.
Ok, so it was actually a day after Bono's birthday but that's a minor detail when you have a stadium full of fans who want to serenade you. Edge led the massed chorus of 'Happy Birthday' and Bono explained that he thinks of his own mother on his birthday, particularly so here, coinciding with Mothers Day. Special mention to Ali, the mother of his own children, who has flown in for the show.
'Mexico, Mexico...'
More signs tonight that this tour is continually reinventing itself, not just with 'Real Thing' now established at the top of the show but with Magnificent getting another vibe thanks to some new animation with Archbishop Tutu - the production team have clearly not been taking much time off since the South American dates.
Another surprise came in the middle of 'Crazy' (this track knows no limits) which suddenly metamorphosed into 'Discotheque' while there was a huge response for Zooropa, quietly establishing itself in the mix.
The first of three shows in five nights in Mexico City, this was not just one of the loudest audiences we've had to date but one of the highest stadiums we've played in - even edging the mighty 360 stage. Adam sporting a new bass guitar with vibrant red stripes, was on top form - at one point taking hold of a huge flag that had made its way onto the stage and wrapping it around the rest of the band.
Even if you weren't lucky enough to be at the show, there was plenty of debate about the tracklisting on our live feed, none more so than about the rival merits of Ultraviolet or Hold Me Thrill Me - which vie for their place in the show each night.
'I've always loved UV and wanted to listen to it so bad live,'
posted Isamoras.
'But after listening to HMTMKMKM as well, I have to say that it's perfect (for) the show and they should keep it!'
Tonight it was 'Hold Me', followed by With Or Without You' which led into a special dedication from Bono before the beautiful closer 'Moment of Surrender'.
'We would like to dedicate this to all those who have lost their loved ones in the violence that is happening in this country. It's happening here and it's happening all over the world.
'Mexico needs to know you are not alone and we are with you.. you are not alone in the darkness. Let's make each light brighter...'
At which point the Azteca Stadium was illuminated with 100,000 cellphones and you couldn't have had a more powerful way to close the night.
So that was the opening night in Mexico, the tenth show of 2011 and the first of the final lap of the tour which will take us through North America until the end of July. Were you at the show tonight? What was the moment you'll never surrender?
Add your own review and upload your photos on our Tours Pages.