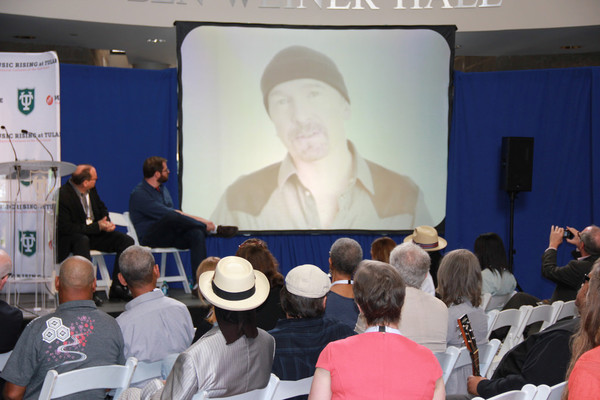 Edge spoke by video (below) at the launch of a 'Music Rising' initiative at Tulane University, New Orleans, on Wednesday.
'
Music Rising At Tulane
' is a specialist website focusing on the musical cultures of the Gulf South. It features original content, artists' biographies, K-12 learning modules and a state-of-the-art music instructional program. The School's New Orleans Center for the Gulf South is providing lectures and symposia to scholars and the public. Classes such as the Trombone Shorty Academy are 'breaking down the walls between classroom and community, creating unmatched opportunities for the exchange of ideas and experience.'
'It's a remarkable milestone for Music Rising,' says Edge, who co-founded the organisation with music producer Bob Ezrin after Hurricane Katrina tore through the Gulf Coast in 2005. 'Out of this partnership we were able to create a program which fosters national and international study through the work of K-12 educators and university scholars.
'I hope that this is only the beginning of an opportunity to provide future generations of students a chance to experience the colorful and dynamic musical history from this very special part of the world. On behalf of myself and our entire Music Rising team I extend my heartfelt thanks to everyone who helped make this happen.'
Along with performances by local artists, Wednesday's launch - billed as a 'Musical Cultures Jam' - was a chance to explore the new site, a one-stop shop for music of every genre from blues, rock, zydeco and jazz to the rhythms of Congo Square and the Second Line tradition.
Music Rising was originally set up to support the restoration and preservation of New Orleans' unique musical traditions. Since 2005 it's become a national disaster relief fund for music education and supplied aid to thousands of music students, professional musicians and church members. More on Music Rising at Tulane
here
.