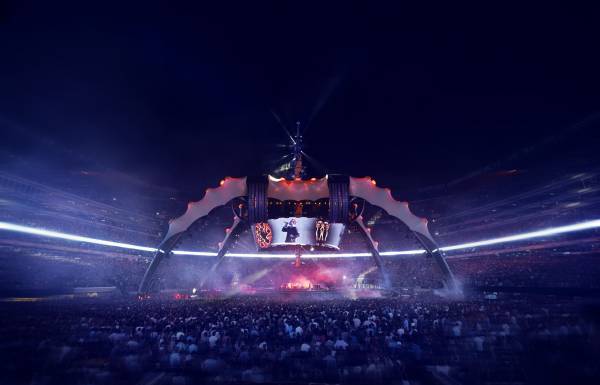 He's been making U2 sound at their best onstage for more than three decades but after hearing every song at every show on U2360, Joe O'Herlihy found it a 'monumental task' to come up with a setlist of just
22 songs for 'U22'.
So we let him have an extra one... (Editors Note: no-one else gets a 23rd track.)
Let us know what you think of his selection in the comments below - here's Joe:
'My song list is very much a collection of my favourite songs from the tour. They are in no particular running order, so hopefully my version of the U22 set list will have you smiling, literally from ear to ear.
'In choosing my U22 song set list from the suggested 46 songs, I fear that U22 will have its work cut out to match what the U2360 tour set list had to offer. From a fans perspective, this is a monumental task to give anyone.
'Being a fan myself for the past 33 years, I'm indeed honoured that the band 'let me in the sound' all those years ago. It makes it all the more significant that the U2360 Tour offers the fans the chance to have a lasting memento until the next tour by the biggest and best touring band in the world.
1. Breathe -
Best opening song of the tour for me, Larry at his best.
2. Get on Your Boots -
The live performance, really makes this great song ignite.
3. No Line on the Horizon -
Best new song in the set.
4. Magnificent –
The new summer 2011 live remix takes this song to the subconscience forever.
5. New Years Day -
Just rewards, for our fantastic audience at the show in Poland.
6. Beautiful Day -
The higher ground lift to elevation.
7. Elevation - Going up, communication, connection, lift-off, away we go.
8. Still Haven't Found What I'm Looking For -
Oh, the joy of a full stadium singing in unison.
9. Moment of Surrender –
Just, such a beautiful song.
10. Sunday Bloody Sunday -
My heart strings pulled apart every time.
11. City of Blinding Lights -
Sonic sorcery, the most uplifting song.
12. I'll Go Crazy Tonight -
Remix 'Club Stadium' version.
13. Bad –
The painful reality of our youth.
14. One -
Thought provoking, what might have been.
15. Where The Streets Have No Name -
You can't hear a U2 Show without 'Streets'.
16. Ultraviolet (Light My Way) -
My favourite song on the tour set list.
17. One Tree Hill -
Greg Carroll, G Dub, always a tearful moment for me.
18. With Or Without You.
Also the fans favourite.
19. Even Better Than the Real Thing -
U2360 Tour 2011 remix version.
20. Zooropa –
The WOW spectacle showpiece song of the tour.
21. I Will Follow -
Send them home, sweating for more.
22. Out of Control -
Fans love a surprise, goodnight and thanks for the dance.The standout track? Well that gives me a chance to squeeze in another song. It has to be 'Stay (Far Away So Close)'. Now if we could only get the band to play a full band version of this song, maybe next tour. Too bad it's not U22 Plus + + + + + +.

The U2360 Tour took us around and around and around the world. I hope U22 takes you even further….'