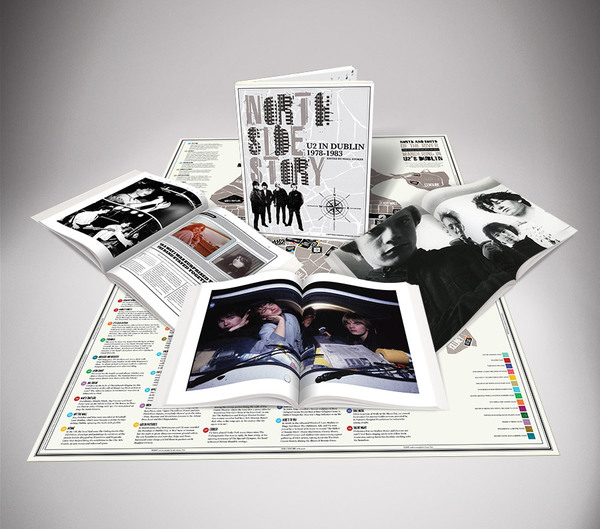 North Side Story
is the definitive account of the emergence of U2 in Dublin. Specially commmissioned from the Hot Press team in Ireland, it covers six formative years from 1978 to 1983, from the first single, 'U23', to the live album, Under A Blood Red Sky.
Ahead of publication we'll be carrying a series of sneak previews from this special title beginning, today, with six editorial vignettes.
North Side Story
is available only with a
U2.com subscription
. Running to
274 pages,
this heavyweight book
of rare photos, original interviews, diaries, letters and profiles
comes with
'North & South Of The River, Wandering In U2's Dublin'
, a poster-size map charting U2's Dublin. Subscription benefits also include:
exclusive music (for example subscribers can now download 'Ordinary Love', from 'Mandela: Long Walk To Freedom' )
; a dedicated
subscriber site
streaming every U2 track and hosting unique video & thousands of archived news articles; the opportunity to enter ticket presales if the band go on tour and 25% off your first purchase in our Store.
Find out more about a U2.com subscription and get your own copy of North Side Story here.
'I first met them around 1977 or early 1978. Adam Clayton was in Mount Temple with my younger brother. Because I'd been in The Radiators, my brother had said, 'There's this guy in the class who'd like to talk to you about being in a band.'
...and then they said, 'We're thinking of changing the name'. I thought The Hype wasn't a great name. They said they liked names like XTC so I went away and thought about it for a week and came back with a few names, including U2. I explained at the time that U2 was a spy-plane; it was a German submarine; and it's also a stop on the Berlin underground... you didn't have to worry about language or anything. It was a name that would travel well.'
Steve Averill on coming up with the name
.
Larry: 'Getting together in high school, none of us had been in bands before except Adam who was in the Max Quad Band'
Edge: 'We were all terrible. We just couldn't play other people's material - that's how we started writing. We learnt to play by learning how to do our own songs.'
Bono: 'Adam pretended he could play and used words like 'gig' and talked about things like 'action' on the bass and we thought this is a guy who can play! He actually couldn't play a note....'
From U2's first Hot Press cover story, in 1979.
'U2 and The Virgin Prunes took very different paths very early on, so what interested U2 and what interested The Virgin Prunes became extremely different things.
People would have been more familiar with what U2 did but after our first three or four gigs everybody was talking about us, everybody wanted to see us and we created a buzz that rarely happens around any band. I've never seen it happen around any Irish band before. So I suppose for a moment, on some levels, we passed them out. But of course they returned the compliment a short time afterwards...'
Guggi, on how U2 and The Virgin Prunes emerged at the same time.
'Originality is the keyword. In terms of presentation, on stage, I try to catch people's attention; like an actor, I try to get across the atmosphere of the words and the setting. Sometimes I fail, sometimes people don't want to know, sometimes I don't even know myself.
'In the end it's up to you, the audience, to decide for yourselves, is it relevant or irrelevant, can you see the potential in U2 or not? So far you have decided yes and put our first record U23 in the charts. Thank you.'
Taken from an article by Bono, in 1980, about 'being in a band on the threshold'.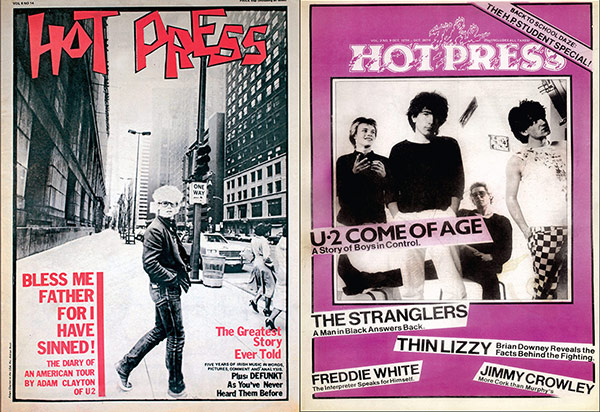 'Up too early with everyone looking wrecked. Arrive in Denver and Edge discovers a ski resort 50 miles up country.The four of us head off. It had to be hushed up - a broken leg at this stage of the tour would not be welcome. Stories were fabricated so that no one had any idea where we were. It was a lovely drive through the Rockies resort. Once there, Edge organises the activities, as he is the experienced amateur. We get our skis on and Bono falls over immediately. We potter about on the nursery slopes under Edge's instruction. I eventually feel confident enough to try my luck on the mountain. I wish I hadn't. I've never been so frightened in all my life. To reach the top of the mountain we have to hang on to a chair lift, hundreds of feet above the ground with no safety bar. I was so hysterical I would gladly have thrown myself off had Edge not kept me talking...'
From Adam's 1982 diary of life on the road in America.
'This album is also The Edge Orchestra's main feature so far. His execution has been so effortless and his function so accepted that his massive responsibilities are often overlooked. But on Under A Blood Red Sky The Edge's ability to ride all the horses - rhythm, lead and melody - in the U2 circus, becomes evident and often breathtakingly so.
U2 have been able to avoid the tiresome profanities of guitar rock exactly because The Edge's style isn't vulgarised from a blues base. 'The Electric Co.' is the furthest he ventures into that type of shattering riffing but The Edge's real moments of glory are on 'New Year's Day' and '11 O Clock Tick Tock', the latter a genuine development of the Hannett-produced original, pulsating through its final section with the guitarist's jagged, spine-tingling variations...'
Bill Graham reviews Under A Blood Red Sky in 1983.
Take out a U2.com subscription and get your own copy of North Side Story here.
If you are a current subscriber,
click here to renew.