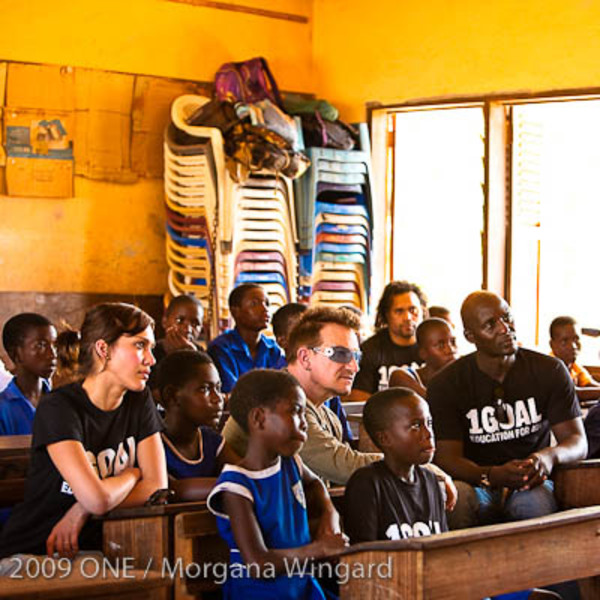 'I SPENT March with a delegation of activists, entrepreneurs and policy wonks roaming western, southern and eastern Africa trying very hard to listen,' writes Bono, in his latest column for the New York Times. 'With duct tape over my gob, I was able to pick up some interesting melody lines everywhere from palace to pavement ...'
Below, an extract, read the whole column
here.
'Sharing a table with Githongo and me one night in Nairobi was DJ Rowbow, a Mike Tyson doppelganger. His station, Ghetto Radio, was a voice of reason when the volcano of ethnic tension was exploding in Kenya in 2008. While some were encouraging the people of Kibera, one of the largest slums in Africa, to go on the rampage, this scary-looking man decoded the disinformation and played peacemaker/interlocutor. On the station's playlist is Bob Marley and a kind of fizzy homespun reggae music that's part the Clash, part Marvin Gaye. The only untruthful thing he said all evening was that he liked U2. For my part, I might have overplayed the Jay-Z and Beyonce card. 'They are friends of mine,' I explained to him, eh, a lot.
Now this might be what you expect me to say, but I'm telling you, it was a musician in Senegal who best exemplified the new rules. Youssou N'Dour - maybe the greatest singer on earth - owns a newspaper and is in the middle of a complicated deal to buy a TV station. You sense his strategy and his steel. He is creating the soundtrack for change, and he knows just how to use his voice...'
Read Bono's column
here
and find out more about the campaign to fight extreme poverty at
ONE.