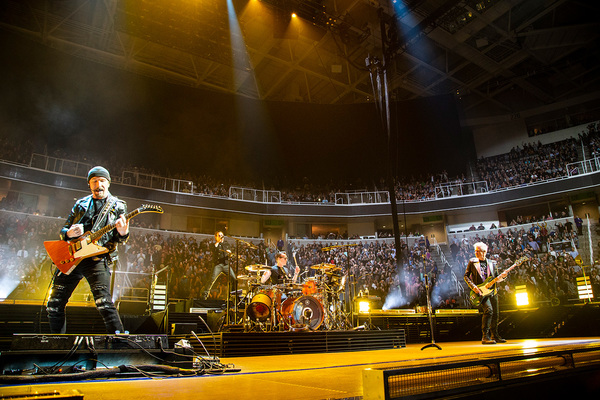 'Red Flag Day' in San Jose
When & Where
Tuesday 8th May 2018. Night 2 for #U2eiTour at the SAP Centre San Jose, California.
Set List
Live debut for 'Red Flag Day' in San Jose, four shows into this leg of the tour. Gloria keeps its place in the set after its tour debut last night (first time since the Vertigo tour it has featured in back to back shows).
Check out the complete set list.
Social Posts
@bijans (via Twitter) 'Most artistic storytelling they've ever done on stage'.
@WilsonKPIX (via Twitter) 'Deliberate and frustrating, personal and human. U2's #U2eiTour is going to piss a lot of people off, while also being pretty incredible'.
@U2Baja (following along online via Twitter) 'I have to say this #U2eiTour has got me really excited. The energy the band is showing, the willingness to take risks and shelve iconic songs, even the darker aspects of the shows. Truly impressed and excited for my turn'.
Fansite Coverage
Remy from @U2Start has been travelling around the first part of this tour, and is using social media to cover the shows and interview fellow fans along the way. He caught up with Ignacio from Chile & Harry from fellow fansite @U2Songs - both have actually played guitar on the e-stage with the band in the past (back on the Innocence version of this production). Here's a few of their thoughts about tonight's show.
Ignacio : 'It was great, great energy'.
Harry : 'I thought it was the best night of the tour so far, the band was on top form.. performance-wise, everything was top notch'.
Remy : 'Bono's voice… its like.. better than ever!'
Ignacio : 'They are giving us a different angle.. more playful and dynamic'
Remy : 'Do you miss Streets?'
Harry : 'I always miss Streets .. but this whole experience thing its about taking risks…and that's a part of it… and that's a good thing'.
They went on to discuss the evolution of the Macphisto character, Red Flag day debut, Larry's drums in Desire and more… you can watch the full 10 minute chat here.
If You Had To Pick One Song
'Lets try this for the first time'. The singer announces Red Flag Day for its worldwide live debut…
What did Bono Say?
'Waking up...what a wonderful feeling...16,000 reasons to get out of bed…' (and later) 'Tim Berners-Lee right in front of you' during Beautiful Day.
'I desire to be in the room with the greatest drummer on the planet... I desire to be in the room with the most elegant bass player... I desire to be with The Edge… but it's impossible, because he's untouchable!'
'I remember a time when money couldn't buy an election, do you remember that? Yeah, innocence. One man, one woman, one vote, they were the days. Do you think we can get them back?! This is America, you can do anything.' (During Desire)
Review on U2.com / Zootopia
(Zootopian shooboxx was there for second night in a row)
'Another super stellar show. These damn direct calls to actions are very convincing. Coming out with a bullhorn to literally rally us... It's important stuff, it's scary times, this is exactly the type of gatherings we need. The energy was so strong and positive. A second night I felt privileged to be part of this with other fans'.
And if you were at the show, add your own review and upload your photos here.