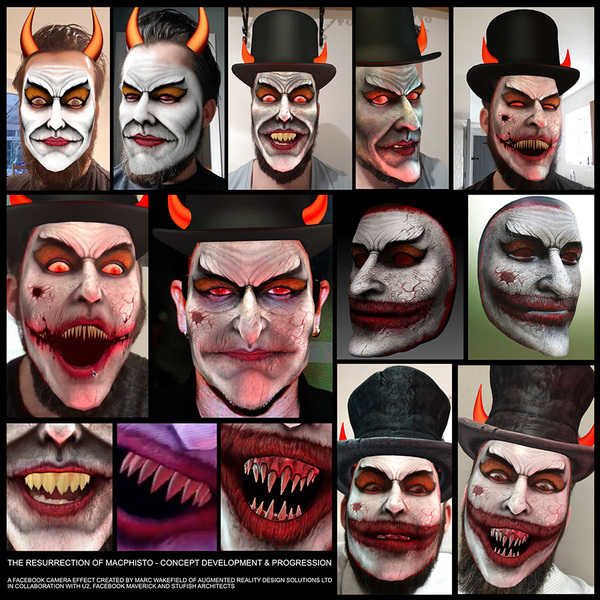 'You don't know how you got here
You just know you want out …'
This is the tale of how Batman helped Mr. MacPhisto find his way to eXPERIENCE + iNNOCENCE. Cathleen Falsani reports.
Artist and digital experience designer Marc Wakefield was 13 years old when Joel Schumacher's Batman Forever debuted in the summer of 1995. The ardent Batman fan was so enthralled with Val Kilmer's portrayal of the Dark Knight as he vanquished Jim Carrey's Riddler, he bought the movie soundtrack.
'Hold Me, Thrill Me, Kiss Me, Kill Me' was one of the most-played songs,' recalled Wakefield, director of Augmented Reality Design Solutions in London. It was also his official introduction to U2. 'I remember an animated clip of MacPhisto from the song's video,' he said. 'I had no idea back then that I'd ever be doing this.'
Wakefield is creator of the 'MacPhisto Effect', an augmented reality camera filter that helped Bono resurrect his diabolical alter-ego during the first leg of the eXPERIENCE + iNNOCENCE tour.
In July, the MacPhisto effect became available to the public as one of Facebook's camera filters. It's a full-circle turn of events, as the MacPhisto effect was born on the Facebook for Developers AR Studio platform where Wakefield, in collaboration with tour architect Ric Lipson and visual design house Treatment Ltd, worked on prototypes of the design for Bono to 'try on' in the weeks leading up to the eXPERIENCE + iNNOCENCE in May.
As a visual artist, Wakefield has specialized in painting and drawing, and began working in augmented reality about five years ago, building 3D models for computer-aided interior designs. 'Taking pencil and paper and coming up with monsters and things - it's something I've always loved to do,' he said. 'I'm a facer…fascinated with different shapes of faces, different eyes, different noses.'
When Facebook opened up its AR Studio in BETA for developers in early 2017, Wakefield dove in and created a creepy clown photo filter that became a huge hit. Released just before Halloween, Wakefield's clown has been used more than 18 million times and counting.
In creating his clown, Wakefield drew inspiration from 'American Horror Story' and Stephen King's 'IT'—but there's more than a hint of Jack Nicholson and Heath Ledger's Jokers from 'Batman Returns' and 'The Dark Knight' in the mix, as well.
The massive popularity of his creepy clown caught the attention of the powers that be at Facebook, who invited Wakefield to collaborate on internal projects and attend Facebook's annual developers conference in San Jose last spring.
'I said from the beginning that I wouldn't be interested in doing kind of cutesy things, but if they had anything that involved music and monsters then definitely that's the kind of thing I'd love to do,' Wakefield said. Soon thereafter came the call asking him to design the MacPhisto effect.
Wakefield began with a design based on what MacPhisto looked like when he made his debut in 1993 and then, with input from U2 and their creative team, imagined what he might look like after a quarter century of of hard living.
'The feedback was the teeth should be a bit more kind of misshapen, a bit kind of creepier and jagged and more monstrous,' he said. 'Could the hat look like the hat has seen better days? Something befitting a demon who has been dormant for 25 years and now trying to get his way, climbing back out into reality… and he's wearing the clothes we last saw him in.'
Over time, MacPhisto's top hat got more beaten up, the surface of his skin cracked and peeled, and a cavernous blemish appeared on his right cheek—the one that's prompted him to ask concert audiences on more than one occasion, 'Is there a dermatologist in the house?'
Facebook created a private page for U2 to test the MacPhisto filter live as it evolved. Bono would try it out and send feedback, and Wakefield would make adjustments and tweaks. 'He requested that the nose and chin be elongated,' Wakefield said. Over time, AR MacPhisto grew 'darker and more destroyed', both by design and serendipity.
'There was a little glitch where the MacPhisto face would disappear for a moment,' he said. 'At first, we were like 'Oh no!' But then it turned out that it actually kind of worked—the face would disappear, and you would see Bono, but he still had the MacPhisto makeup on and you could see him as he is. But then the [camera] would [move] again and the tracker would pick up and you'd see a space with the demonic face underneath. It was almost like MacPhisto was fighting for control over Bono.'
Wakefield hasn't had a chance yet to see the eXPERIENCE + iNNOCENCE show (and the MacPhisto Effect) live, but he's gotten a kick out of watching videos posted by fans and their reactions to his creation. 'The fan theories are interesting,' he said. 'I heard one that said he's getting consistently darker and by the end of the tour he's going to be really, really terrible.'
Whether MacPhisto's dramatic devolution continues when the European leg of the tour picks up again on August 31 remains to be seen, but don't be surprised if the decrepit old demon still has a few more tricks hidden under his top hat.
The band have invited Wakefield will get to catch up with him in London, where (thanks to Batman) they first met 23 summers ago.
'It's just a gift to kind of see something that I've created on one of the most famous men in the world, performing in a stadium tour. It's crazy, when you think about it,' he said. 'They are a phenomenal band—timeless in my humble opinion. It was a huge honour to work on this project.'