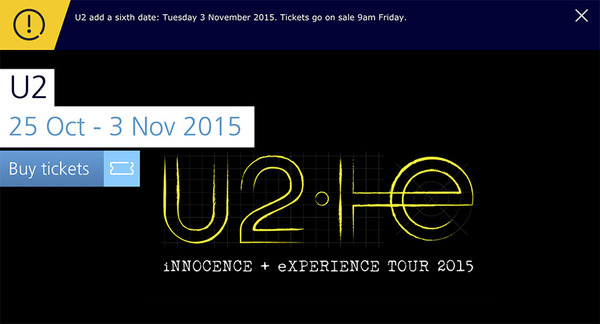 With the European and UK tour dates now completely sold out, U2's iNNOCENCE & eXPERIENCE Tour 2015 has confirmed a sixth and final show at The O2 Arena in London, on November 3rd.
The tour will travel through Canada and the US, culminating in eight shows at Madison Square Gardens before it moves to Turin, Italy on September 4th and 5th followed by sold out concerts in Amsterdam, Stockholm, Berlin, Barcelona, Antwerp, Koln, London, Glasgow and Paris.
Tickets for this sixth London show will go on sale this Friday, March 27th, at 9am local time.
U2.com subscribers who have not yet used their unique pre-sale access code -
or new subscribers
- can take part in a ticket pre-sale for this additional show from tomorrow, Tuesday, March 24th at 10am (for eXPERIENCE subscribers) and from Wednesday, March 25th at 10am (for iNNOCENCE subscribers). This pre-sale will run until Thursday March 26th at 3pm. (All times local to venue.)
Tickets will be general admission on the floor and reserved seating in the stands.
Qualifying subscribers will be emailed pre-sale details.
The iNNOCENCE + eXPERIENCE Tour 2015 will feature the in-concert debut of material from U2's thirteenth studio album Songs Of Innocence. Released September 9, 2014, Songs Of Innocence was named #1 album of 2014 by the editors of Rolling Stone and voted #2 album of 2014 by the magazine's readership. Last month, independent market research conducted by the Kantar Group determined that not only was U2 the most-listened-to act on the iOS platform, but that 95% of those listeners had played one or more tracks from Songs Of Innocence.
For North America cities where some tickets remain available and for all tour dates, check our
TOUR PAGE.