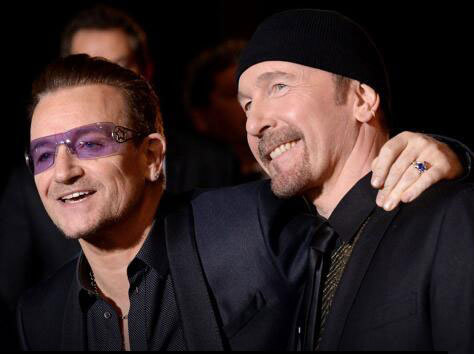 Edge and Bono were guests at the Palm Springs International Film Festival over the weekend, honoured for the band's social and political work.
With Tom Hanks, Meryl Streep and Julia Roberts among the stars on the red carpet, this was the first time the Sonny Bono Visionary Award had been awarded to artists beyond the film world. They wanted, said Festival Chair Harold Matzner, to celebrate U2 'for their humanitarian work against extreme poverty, disease and social injustice.'
Here's some highlights from the speeches, after Bono and Edge received the award from Naomie Harris and Idris Elba, stars of
Mandela:Long Walk To Freedom
.
'I know I can speak for the band when I say how honoured we feel to even be invited to be here tonight, let alone to be the first musicians ever to receive the Sonny Bono Visionary Award.' Edge
'I understand that people find it insufferable when artists stray from their box, but for a lot of us in this room that is the definition of being an artist. It is worth mentioning that more people live off their imaginations in California than any other place in the world.' Bono
'Our simple belief is that where you live should not decide whether you live. We are within reach of declaring the first AIDS-free generation.' Bono
'Thank you to the visionaries in this room. You all know that a vision without a promise is just a fantasy and we're not interested in that.' Bono
Some 25 years ago journalist Steve Pond visited Dublin to interview the band for Rolling Stone. Steve was on hand again this weekend,
speaking to Edge and Bono for The Wrap
.
'The idea of U2 writing a song for a Mandela movie could make people think they're going to get a big political song. But "Ordinary Love" isn't that at all.Bono:
Maybe they were thinking we should write a big anthem, a "Pride (In the Name of Love)." But we were more focused on the eros and the agape. A complicated love story, which is this film, deserves a complicated love song. And that's kind of our specialty. 'Cause when things get too straight, in terms of writing a love song, we start getting embarrassed. We come from that Roy Orbison school of dark love songs.
Edge:
And the great arc of the story is to see how he emerged after his captivity as this wise sage who had incredible judgement and incredible ability to forgive and to move forward into the future. A visionary....'
On Sunday the musicians joined the actors for a Q&A in the festival's 'Talking Pictures' programme.
Highlights here
.