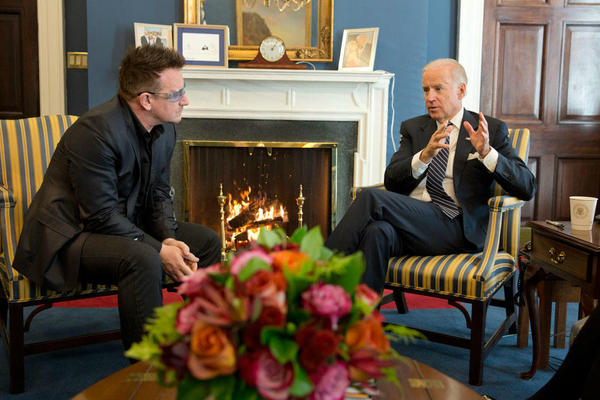 In Washington DC this week Bono met up with activists and politicians from all sides ahead of the 'fiscal cliff' budget discussions. His focus has been to draw attention to how US development assistance saves millions of lives in the poorest countries - and the ways in which social movements can drive real change.
'The power of the people is much stronger than the people in power,' he told 700 students and activists at Georgetown University, quoting Wael Ghonim, the Google exec who helped ignite Egypt's democratic revolution.
Watch the whole speech.
At the White House he met with Vice President Joe Biden to talk about global development, AIDS, and poverty and at the World Bank joined Group President Jim Yong Kim for an open conversation asking 'What Will It Take To End Poverty?'
'We know there's going to be cuts,' said Bono. 'We understand that. But not cuts that cost lives.'
Find the conversation storified
here
or
watch it all again
.
Roles were reversed on Wednesday, at a Newsweek & Daily Beast event to honour people who change lives around the world. Bono nominated New York Times columnist Nick Kristof as his hero -
and then interviewed him.
The week out of the studio finished up in Rome, where he joined Ali to launch a new collaboration between
Edun and Diesel
- a line sourced and made entirely in Africa. Suzy Menkes of the International Herald Tribune hosted a conversation with Renzo Rosso, founder of Diesel, Erastus Kibugu of Technoserve and Ali and Bono which you can catch up on
here
.
For the latest news on Bono's campaign work in the fight against extreme poverty and preventable diseases, keep checking in with
One
.